Our Top 10 Work-From-Home Essentials Without Breaking The Bank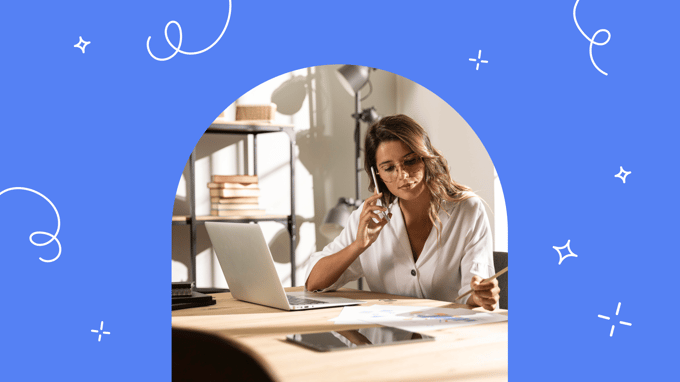 If you've been working remotely for the better part of the pandemic, you probably have the whole work-from-home thing figured out. But in case you don't… we're dishing out our top 10 work-from-home essentials.
Working from home—or hybrid working is becoming the new normal. (Unless you work at Tesla.)
And it should come as no surprise.
It can be more flexible. More efficient. You don't have to commute. And people just seem to be happier when they have the option to pick.
(If you're nodding your head, then you know exactly what we mean.)
Whether you have been WFH'ing for a while, or you are new to a home office it's never too late to take a moment to freshen things up and revitalize your office space.
That's why we're sharing our top 10 work-from-home essentials that cover all your basic needs and then some.
As content, course, and membership site creators, you can work from anywhere in the world, right?
While answering emails from a tropical island sounds fantastic, it may not be practical with all your other life responsibilities going on…
(You know, like dealing with the kids arguing over Fortnight instead of doing their homework.)
That doesn't really work for business, does it?
So, instead of sandy shores, many of us have set up shop in the comfort of our own homes.
Here's what we know to be true…
As content creators, a functional space is super important.
We need space to be creative.
We need space to chat with customers.
And we need a space to be in our best frame of mind to get stuff done.
While regular redecorating isn't exactly ideal, you may have grown tired of the same old boring home office, so there's no better time to breathe some new life or shake things up in your work from home set-up
Keep reading to discover our top 10 work-from-home essentials, curated to keep you and your home office comfortable and reaching maximum efficiency!
1. A High-Resolution Webcam

The dreaded "camera's on" request from your boss in the Zoom meeting isn't ideal for anyone. But if you're showing up, you may as well put your best foot forward and give your co-workers an HD preview of your beautiful face during Zoom meetings.
Having a good quality webcam (like this one) can enhance your recorded content and video files. Your audience will be able to see your expressions clearly, easily read your lips, and overall enjoy viewing your content way more (who likes a pixelated video? Not us!)
And thanks to an HD webcam to capture your amazing footage, you won't have to worry about fiddling around with a blurry video or waste time with post-production editing. Uploading your stunning content has never been easier.
You know what else makes creating content easier?
*drumroll, please*
Using the Searchie Chrome Extension to record and automatically upload and transcribe your audio and video files. 😉
2. A Good Quality Microphone

Testing…1, 2, 3.
We're adding an external microphone to our list of top 10 work-from-home essentials.

As a creator, you want to ensure the best quality content for your audience, and a microphone will do just that.
From live videos, to webinars, to online courses, we're constantly producing content at Searchie—and we use microphones like this one to make sure our audio sounds crisp and clear to our members.
Check out this sound clip of Searchie team member Will demonstrating the power of a good microphone:
3. A Durable Standing Desk

Not a must-have, but a standing desk can greatly improve your health.
By breaking up your work day into periods of standing and sitting, you can reduce strain on your back muscles, adjust your posture, and improve circulation.
Sounds good to us!
Your body will thank you after a long day's work creating amazing content!
4. A Laptop Stand, Keyboard & Mouse
It is important to be aware of your posture when spending long days at your desk. You could be causing stress on your back without even realizing it!
One alternative to a bulky computer monitor is a laptop stand.
A laptop stand allows you to elevate your laptop so that you can sit up straight when focusing on a project, improving posture and reducing neck pain.
Sounds like an at-home essential to us!

Another at-home office accessory to add to your list is a mouse (not the squeaking kind, of course). An external computer mouse allows for quicker and more efficient scrolling, and many models, like this one, are ergonomically designed for better hand comfort.
Not all mice are pesky. 😉
To complete your computer set-up, you can also add a wireless keyboard.
A detached keyboard will allow you to type from any angle without having it attached to your screen. Making typing an absolute breeze–whether your desk is sitting, or standing!
5. An Ergonomic Desk Chair
These aren't just any old office chairs… these "ergonomic" chairs have been designed to provide comfort and muscle and joint support.
What exactly is an ergonomic chair, you ask?
Big word, we know. And we're no experts on the topic either.
So after a little Google search, we found that an ergonomic item is a product designed to provide comfort and efficiency when working on a project.
Seems simple enough.
They're a smart investment for anyone who spends many hours at their desk.
You can spend as much or as little as you want on a chair. Below are a couple of our faves.
If you're looking to splurge (or get a handy work-from-home write-off) then check out the first chair. It's heavy duty and one of the top of the line models.

For those looking for something a little more affordable, check out this model from Best Buy.
6. A Wide-Mouth Water Bottle
You didn't think we'd forget the H20, did you?

It can be easy to forget about your water intake when you're busy working. It's easy to get SO wrapped up in a project and forget about life's simplest necessities–like hydrating!
That's why it's SUPER important to have a large water bottle with you at all times. This is one of our work-from-home essentials.
A large bottle makes it easy-peasy to track your daily water intake, instead of losing count of 3… 5… 8 glasses of water. That's why you'll always find Team Searchie with our big ol' water bottles within reach.
This bottle features a wide mouth and twist-on lid for maximum hydration!
Did you know? Drinking ample water can improve skin health, flush toxins out of your body, and help digestion. We read about it here!
7. A Pair Of Stylish Blue Light-Blocking Glasses

We may not be certified optometrists… but we know staring at a screen all day isn't ideal for your peepers.
Give your eyes some love with a pair of blue light-blocking glasses. These trendy shades reduce the blue light released by electronic devices. These can help to save you from tired eyes and headaches. Plus, they're a great way to show off your personal style in Zoom meetings!
More and more people are investing in these glasses to combat the effects of eye strain that come with living in a digital world.
The good news is that these glasses are often affordable and come in various colors, styles, and designs.
Check out SOJO's wide range of affordable frames here.
8. A Portable Phone Stand
Good news, you don't need three hands to film stellar content!
All you need is a durable mobile phone stand…
This product makes it onto our list of top 10 work-from-home essentials because of its capabilities and portability.
When you want to film some spur-of-the-moment content but don't have an extra hand, a lightweight phone stand will be your new best friend.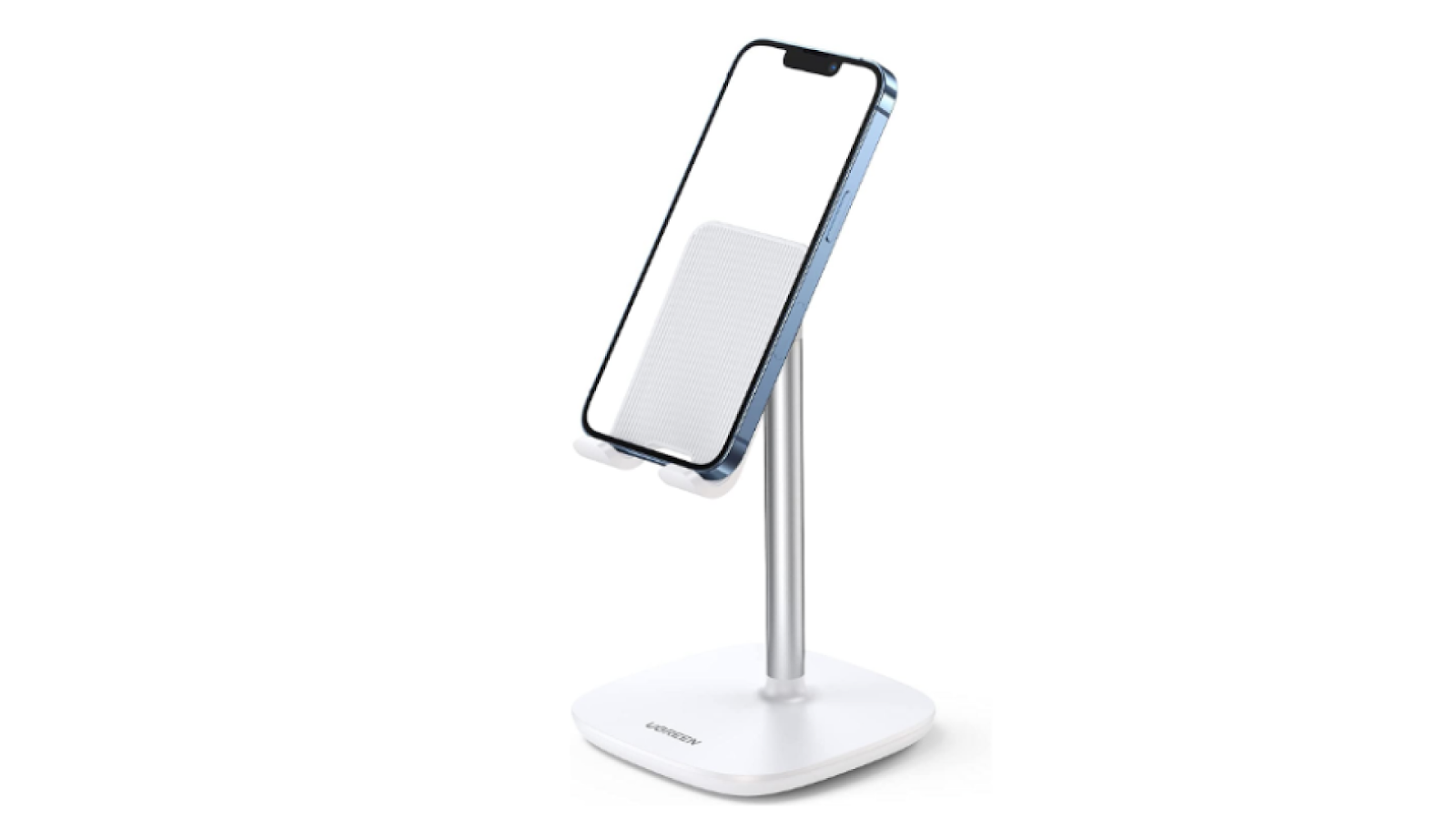 There are lots of options out there, but this one caught our eye. Oh, and did we mention that this one comes in black and white for whatever aesthetic best suits your office space.
9. A Cozy Laptop Bed Table
Because work from home also means work from bed… right?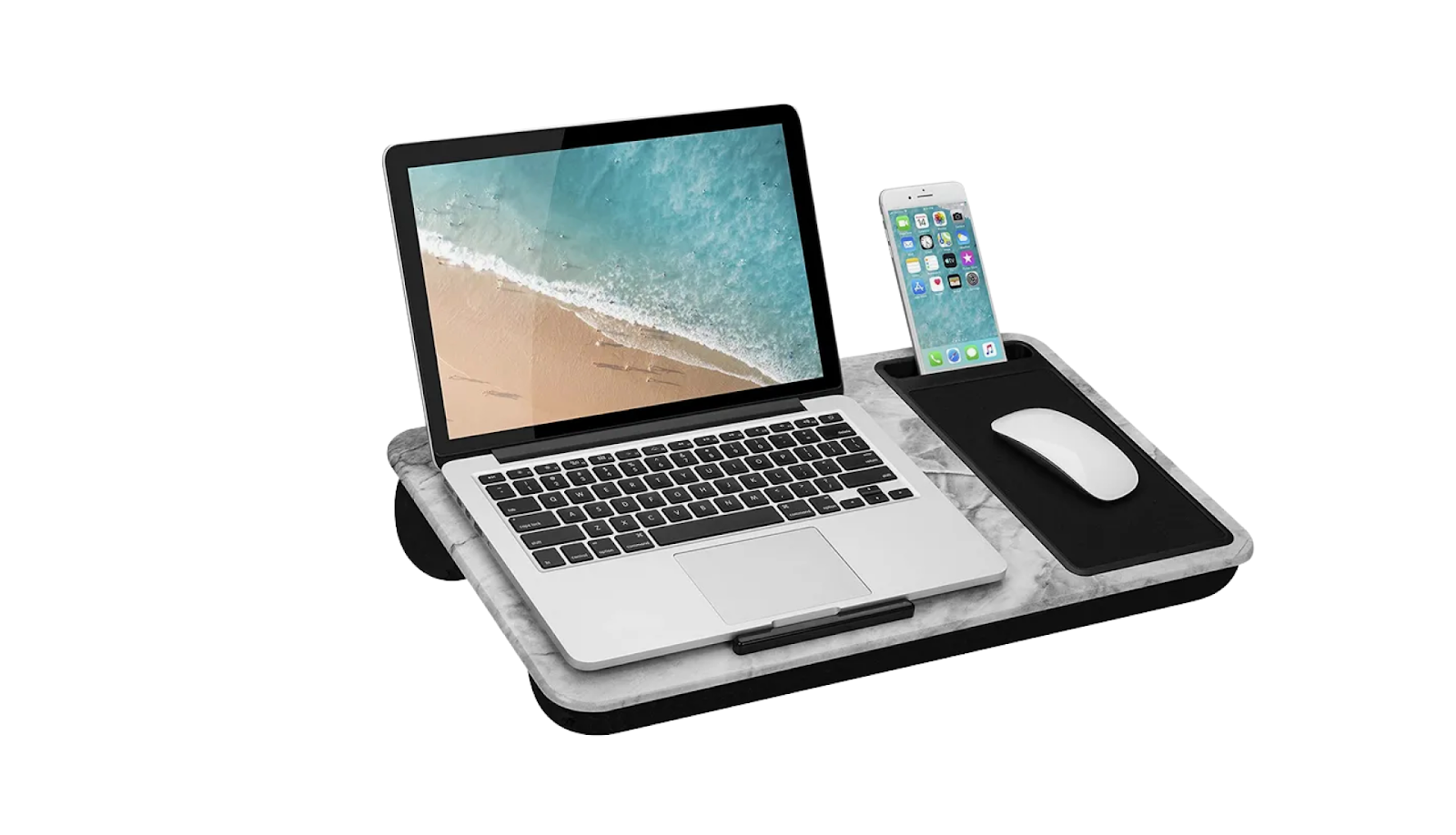 For those days when your bed is just too comfortable, try adding a laptop bed table to your work-from-home set-up.
Lay out, stretch out, and extend your legs in bed while keeping your laptop and mouse secure on deck. Sounds almost too good to be true!
Many models even come equipped with a built-in coffee cup holder–ideal for those mornings you need that extra caffeine boost!
10. A Versatile Office Lamp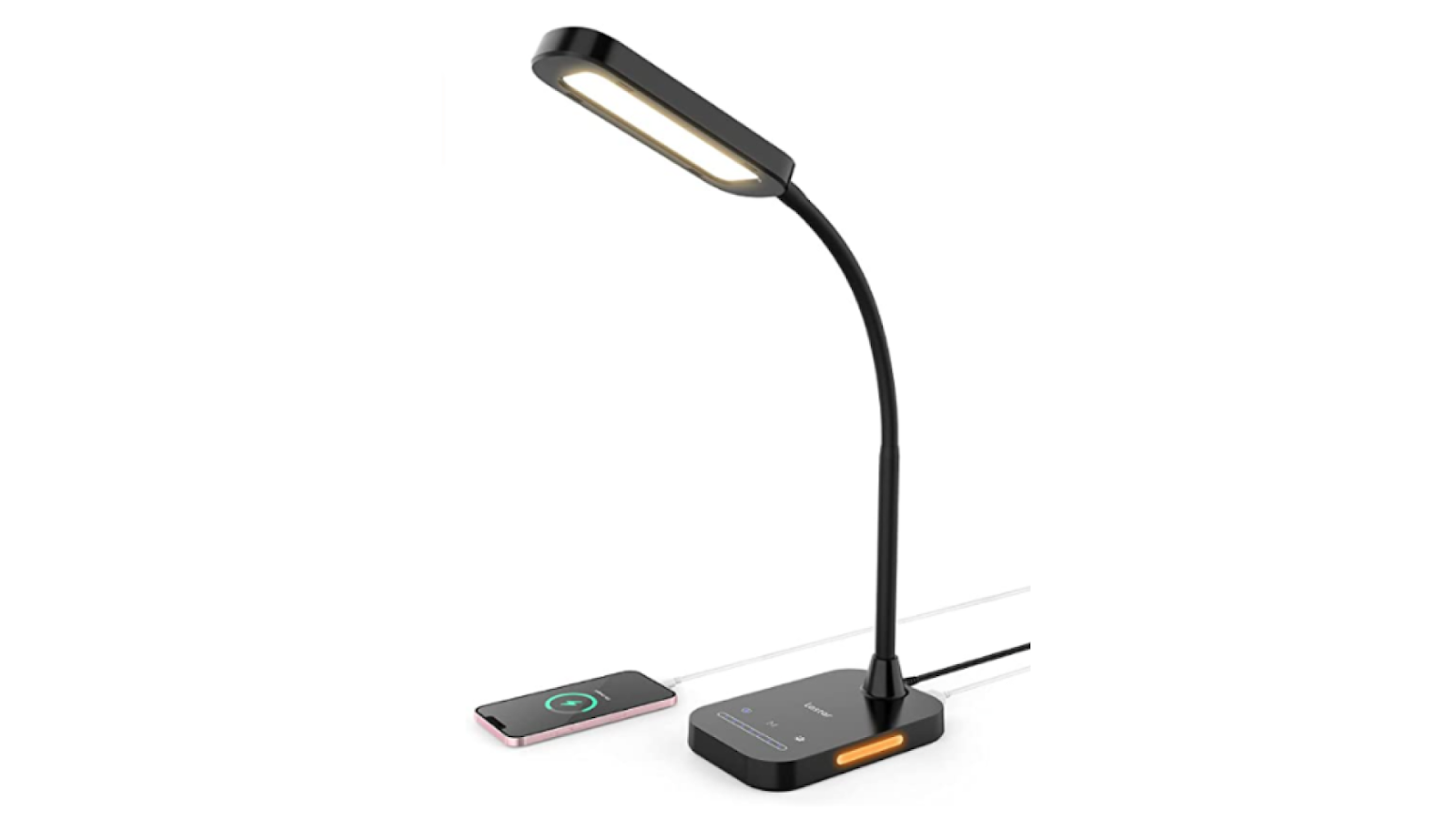 This item might seem like a no-brainer, but the power of a versatile lamp is often underestimated. Aside from just providing better lighting, purchasing a lamp with built-in USB ports can help save you space in your home office.
Say goodbye to chunky power bars with a lamp that has multiple outlets for all your devices. Free up some extra space in your office with this handy, multi-use lamp to complete your workspace.
This model even comes with its own remote control.
That wraps up our list of top ten work-from-home essentials.
How many of these items do you already have as a part of your day-to-day work from home set-up?
Did we forget anything? Join the Searchie community Facebook Page and let us know your favorite home office gems.
Reimagine Your Business
Create the ultimate digital content experience for your information business with Searchie Hubs. Courses, memberships, coaching programs... you name it!