Build And Grow Your Membership Site With Ease
More predictability and stability—they are two things that virtually every business owner wants. And that's exactly what an online membership site gives you!

With Searchie, it's never been easier to start, grow, or scale your membership site around your knowledge and expertise, and add a steady stream of recurring revenue to your online business.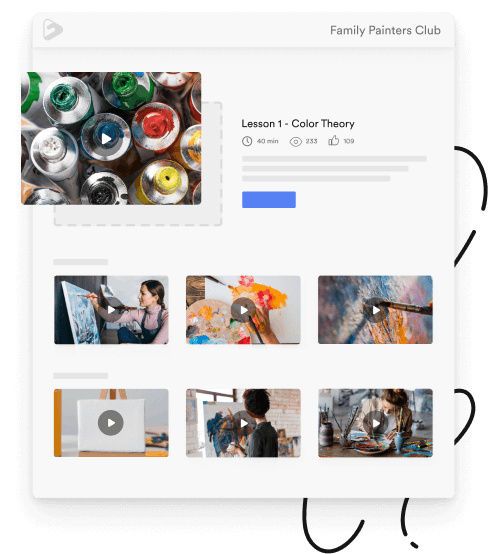 Meet The Power Combo:
Searchie + Memberships
Searchie is the simple, easy-to-use solution for sharing and selling your knowledge, expertise and know-how online through a membership… whether you're just starting out or upleveling an existing site.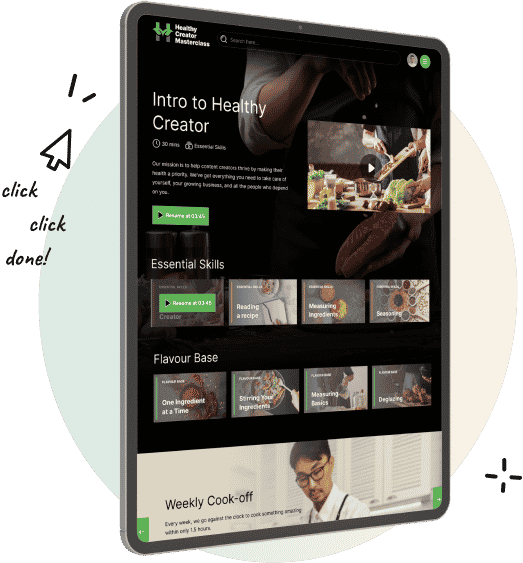 EASY TO CREATE… EVEN FROM SCRATCH
Everything You Need To Start And Grow Your Membership Site
Not a techie? Not a problem!

No more tech stressin'—nobody's got time for that! You'll be dodging tech overwhelm and building a fully functional members' area in a jiffy with our easy-to-use platform and fully customizable membership site templates.

Simply upload and add your content, and launch a beautiful, professional membership site trouble-free.
CUSTOMIZE FOR EACH MEMBER
Create A Tailored Content Experience For Your Members
If you're running a membership, chances are you've got members at a whole bunch of different stages. Some might be new. Others more advanced.

So, how do you make the content relevant for each person so that they make progress and stick around for a long time?

Don't sweat it! You can easily control access to content inside your membership site, and create a tailored experience for each member with Audience Segments and Tags.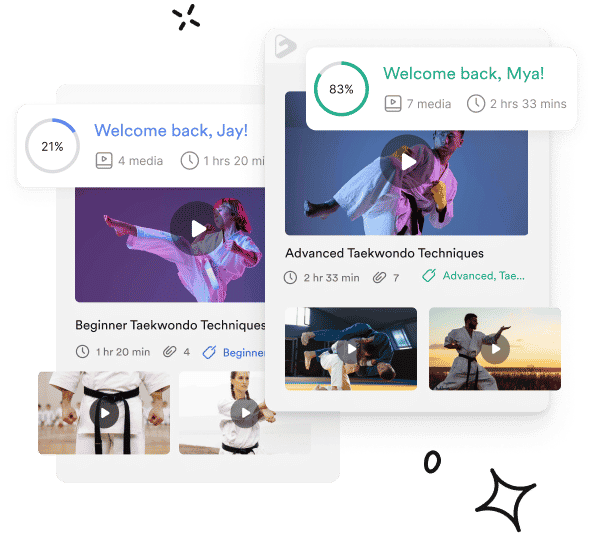 Get Your Membership Site Set Up In A Few Hours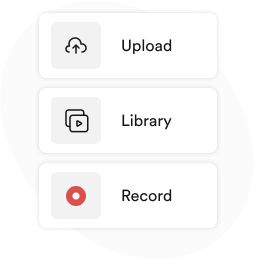 Upload audio or video files to Searchie, record using our Chrome extension, or import media from other sources.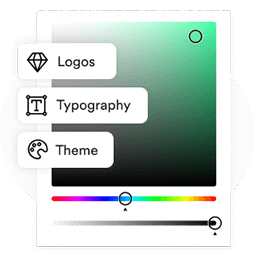 Add your logo, customize the colors and fonts, and add content sections to build out your online course.
STEP 3 – SHARE WITH THE WORLD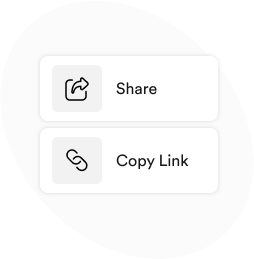 Invite your audience to a secure and private online course area, and share your audio and video content.
Searchie's Integrations Make
Maintaining Your Membership A Breeze
Connect Searchie to other online platforms and automatically add content to your members' area.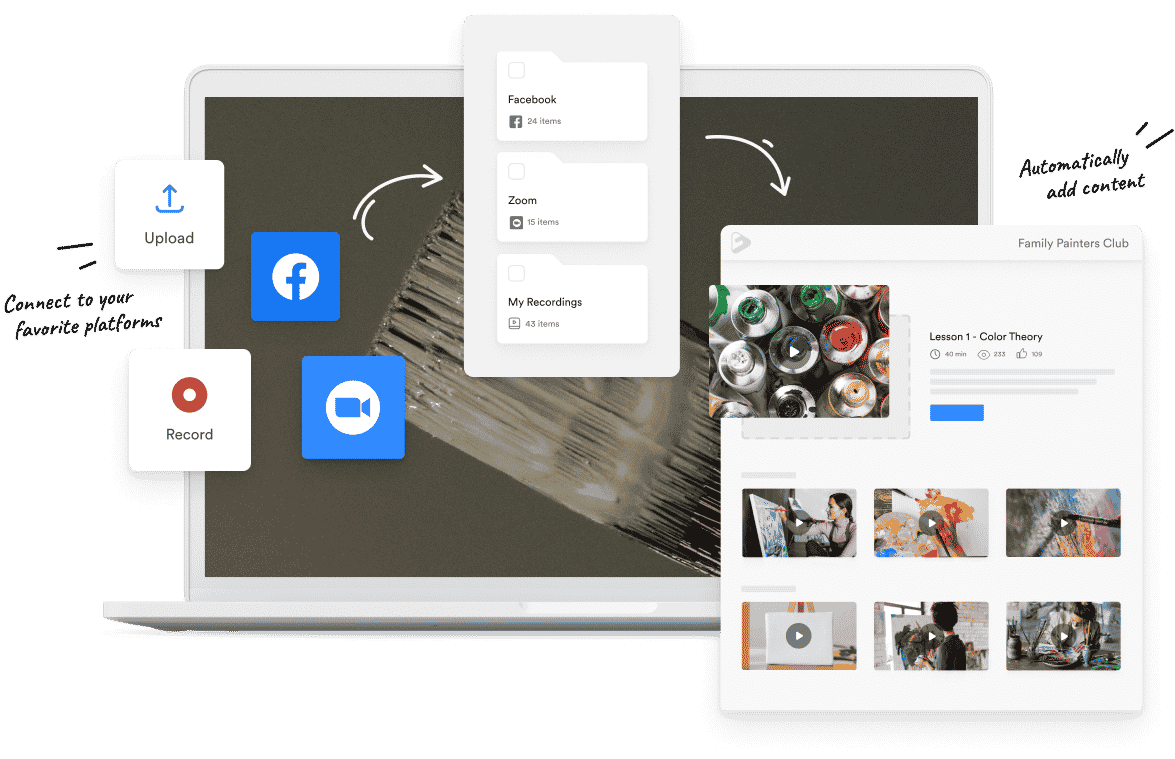 Easy-To-Use Features To Get You Going FAST
Searchie is the quickest and easiest way to start, create and deliver your online membership.
Design & Personalization
Create the perfect members' area that suits your brand and wows your audience!
Easy-To-Use Builder
Customization & Branding
Membership Site Templates
Member Segmentation
Custom Emails
Native Canva Integration
Collect & Manage Payments
Earn recurring revenue and manage subscriptions through our native Stripe integration or connect to a third-party cart.
Stripe
ThriveCart*
WooCommerce*
Shopify*
ClickFunnels*
*Cart integration via Zapier
Accessibility, Automations & Media Search
Accessible content is key to a successful membership. Searchie makes it easy for your members to consume your content… without all the extra work.
Auto-Generated Transcriptions
Auto-Generated Captions
Audio, Video & Text Downloads
Seamless App Integrations
Hosted or Embeddable Audio & Video
Searchable Audio & Video
Private & Secure Members' Area
Add Attachments (PDF, TXT)
Get To Really Know Your Members
Get insights into your audience's behavior and learn how they consume your content. Create more of what they need to make even more progress.
Visitor Metrics
Video Plays
Audience Retention
Keyword Searches
REAL MEMBERSHIP SITE OWNERS, REAL RESULTS
See What They Have To Say!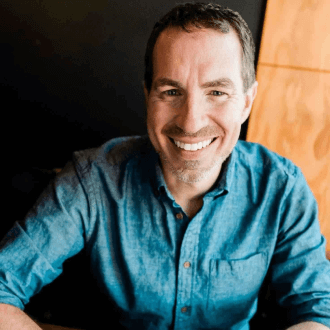 "Searchie has been amazing because it allows my members to find the content they want, when they want it. This has cut way down on questions we receive. I also love that I can show content to only some of my members based on the tags they have, allowing me to have more than one level of members in the same Hub.

Finally all of the ways things can be automated with Searchie has made using it incredibly low effort. People often ask how big my "team" is, but other than a VA a few hours a week I'm able to do it all myself!"
Jerry Potter | Five Minute Social Media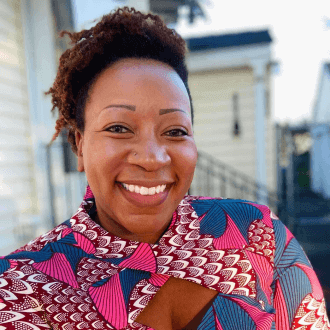 "I love how my Searchie Hub looks like a professionally designed website. BUT the best part is that it was super simple to put together a Hub on my own and even easier to update and change. It just makes for a polished look without the tech hassle or web designer fees."
Nobu Musekiwa | Making Cents of Debt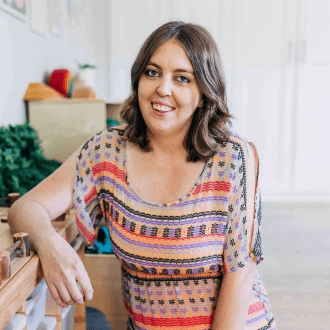 "We moved our membership platform over to Searchie… and it was THE best decision we could have made. Our members love how easy it is to use the platform and having captions and transcripts added to every video automatically is such a time saver AND money saver! Searchie has allowed us to create a one-of-a-kind play directory for our members featuring hundreds of play ideas sorted into playlists by age so our members can find inspiration really, really fast. I absolutely LOVE Searchie and what it has made possible for our membership and business."
Casey Patch | Little Lifelong Learners
Let's Take Your Membership
To The Next Level
Plans Start From $29 Per Month