Turn Your Video Content Into A Private Podcast
Make your video content easier for your audience to consume by turning it into an on-the-go podcast with just a couple clicks.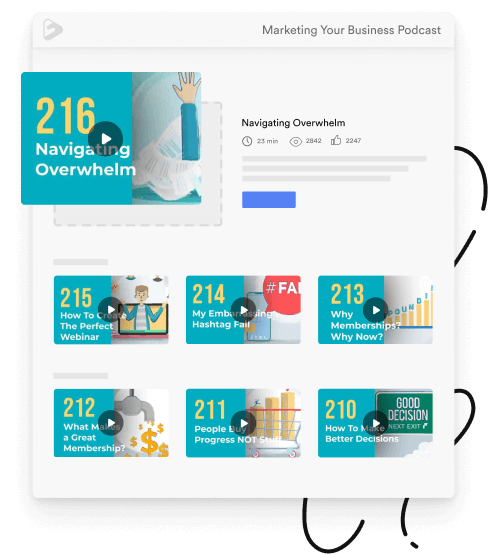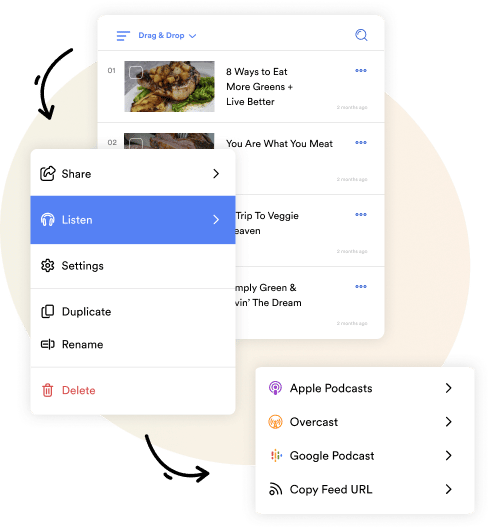 TURN VIDEO INTO A PODCAST
A Public Or Private Podcast In Seconds
Searchie is the easy-to-use platform to create, manage, and sell your content all in one place.

And if you're creating video content for your digital course, membership, or coaching program, it's never been easier to make a private podcast feed for your audience.
STEP 1 – UPLOAD YOUR CONTENT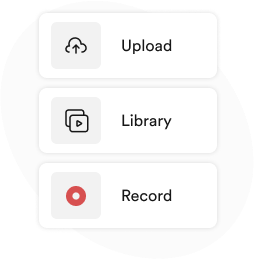 Upload media files or record using the Searchie Chrome extension.
STEP 2 – CREATE A PLAYLIST
Add audio or video files to a Playlist.
STEP 3 – SHARE AS A PODCAST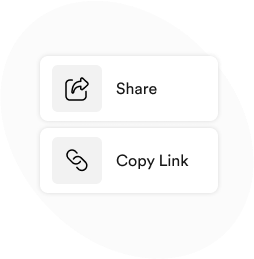 Whether you added audio or video, you can share as an audio-only podcast.
CREATE A SIMPLE WEBSITE FOR YOUR PODCAST
Already Have A Podcast? Get More Eyes And Ears On Your Audio Gold
We've got the perfect tool for you!

Pick a Searchie template, eliminate tech overwhelm and create a fully customizable website for your podcast. Grow your reach and wow your listeners.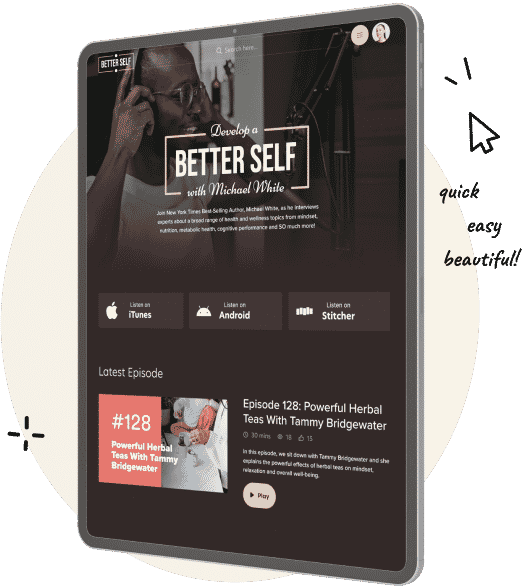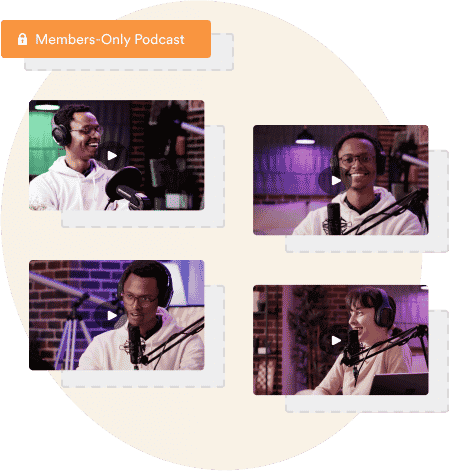 UPLEVEL YOUR DIGITAL PROGRAMS
Instantly Add Value To Your Online Course Or Membership With A Private Podcast
People are busier than ever and the same is true for your clients and customers. A private podcast can dramatically boost content consumption for your course, membership, or online coaching program.

And with Searchie, turning what you've already created into a private podcast is a breeze!
The World's First Search Engine For Your Podcast
We've all been there. Whether you're cooking, cleaning, jogging, or on your daily commute, listening to a podcast usually isn't the only thing you're doing.

Now, imagine you could go back and search through episodes by keyword? Hello, Searchie!

Your audience will thank you for it. Trust us.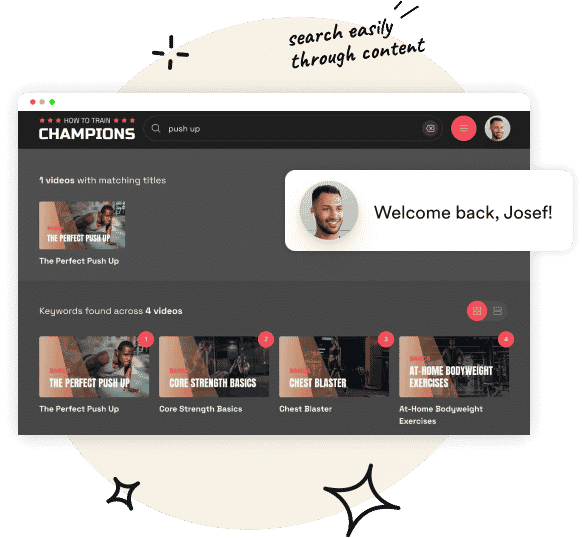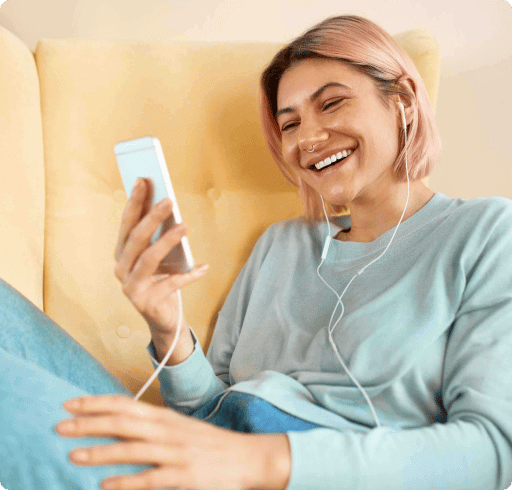 TRANSCRIBE PODCAST EPISODES
Already Streaming? It's Time To Uplevel Your Podcast
Already a podcast pro with a few episodes under your belt?

Connect your podcast with Apple Podcasts or SoundCloud directly to your Searchie account. With automatic transcriptions and searchable videos, it's never been easier to repurpose your episodes in other ways!
Intuitive Features To Get Your Podcast Up And Running Fast
Searchie is the quickest and easiest way to turn your existing content into a podcast!
Create A Private Podcast
Share your podcast privately as part of your digital course, membership, or online coaching program.
Customizable Podcast Hub
Searchie makes it simple for you to create a beautiful website for your podcast with our plug-and-play templates and native Canva integration.
Two-Click Podcast Feed
A Playlist in Searchie can be turned into a podcast in just two clicks! Easily turn it into a private podcast to be listened to anywhere.
Analytics & Insights
Our suite of analytics tools gives you insights into how your audience engages with your podcast.
Make The Most Out
Of Your Content
Use Searchie's automatic and human-powered transcriptions to repurpose podcast episodes into blog posts or social media content.
REAL MEMBERSHIP SITE OWNERS, REAL RESULTS
See How Our Customers Are Reimagining
Their Podcast With Searchie!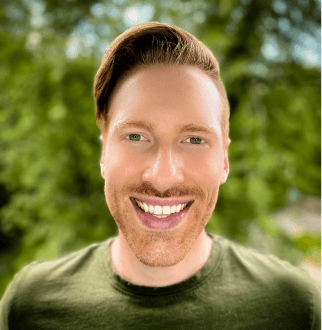 "Searchie is by far my favorite course creator and membership site platform. You can customize pretty much everything on it to look and feel like an extension of your own website. The Hub can be laid out so it's super easy for your users to navigate and if they need to find anything, they have the powerful search bar option. Not to mention you can also download the transcripts off any of your content so it's perfect for a podcast where you can then upload those transcripts into your show notes."
Calan Breckon | CalanBreckon.com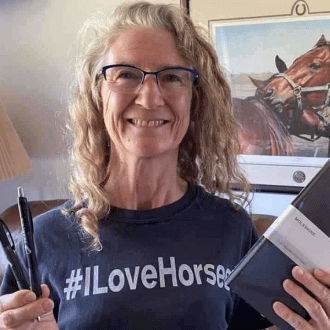 "When I learned about Searchie I realized it was finally my answer to a functional way to store and serve up a searchable archive of our more than 200 audio equine podcast episodes! This is just the beginning! Searchie has SO MANY use cases!"
Sylvia Schneider | Pondside Digital Media Inc.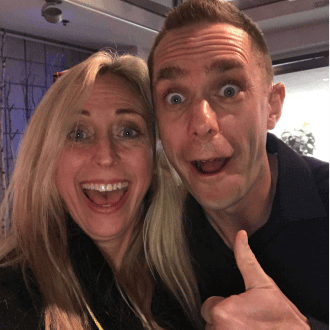 "We use Searchie for both our podcast and our videos. It's a powerful tool for our clients to be able to find what they need when they need it! It has allowed us to create a curated experience for our clients."
Shannon Irvine | Dr Shannon Irvine
Start & Grow Your Podcast
With Searchie
Plans Start From $29 Per Month