Automatic Zoom Meeting Notes With AI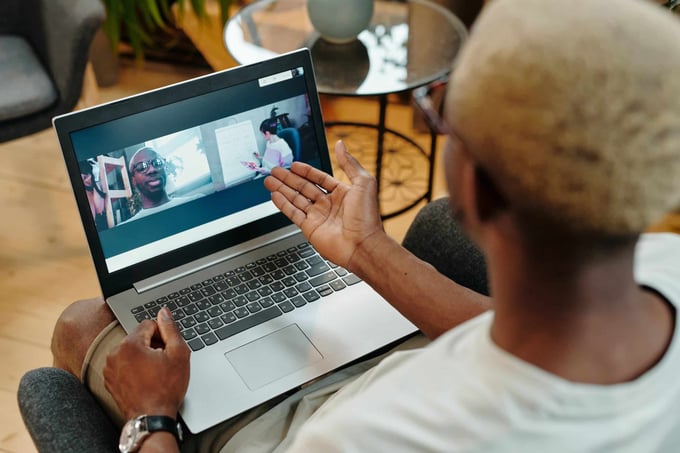 The COVID-era normalized remote work for businesses around the world—and most people that read this would agree it's here to stay. And if you don't agree, well just ask the 300 million people that participate in Zoom calls each and every day.(1) I'd say that's a strong indicator. The thing is, the countless hours on Zoom calls is a major time suck… (but it doesn't need to be with automatic Zoom meeting notes).
For every Zoom call, first there's the prep work. Then, the actual live call.
And then, the most daunting and time-consuming part of all, writing the meeting notes, downloading and uploading the recording, and sharing it with the attendees.
With over 3.3 trillion annual meeting minutes on Zoom(2), we can virtually guarantee that remote workers and Zoom users spend hours—if not days—each year scrubbing through videos, writing summaries and meeting minutes for their clients or colleagues.
If you're thinking you don't need summary notes for Zoom meetings, you're wrong.
Simply sending the meeting recording alone won't get you any views. When's the last time you watched a full Zoom replay? The truth is, no one has time for that.
That's why it's critical to have a note-taking and meeting summary process in place. It's the most effective way to document and quickly summarize what was discussed, action items and next steps.
The "Old" Way Of Writing Zoom Meeting Notes
I spent many years working at a public relations agency in account management. And here's how our process for writing call meeting minutes and Zoom meeting notes worked:
Meeting
Write notes during the meeting (and therefore, not fully engaged or paying attention)
Meeting ends
Wait for the replay
Watch replay to ensure notes were accurate
Write them up in format that easy to quickly scan—either in a document or email
Share with Manager for review, feedback and approval
Send to client
Let's say this was a one-hour meeting. You can quickly see how this could easily be 3 to 4 hours of work, reviewing the recording, editing notes, and compiling it for a client.
The same process and experience is true for an internal meeting, customer success call, sales call or coaching call. Ever time you have a conference call on Zoom, it can quickly become a LOT of work.
This major headache was bogging our team down every single day. And that led us to ask the question… How can we leverage Searchie and Searchie Ai for automatic meeting notes and speed up this process?
It's a lot easier than you think. Let's dive in.
The "New" Way Of Writing Zoom Meeting Notes With Searchie And Artificial Intelligence
Searchie is the most flexible, easy-to-use solution to create, organize, and share your content. There are a number of features specifically designed to help creators, entrepreneurs and team do more in less time with their content.
Searchie is a centralized library for your content—bringing all your audio and video content in one place. Once it's there, the possibilities are endless.
That leads us to Searchie Ai. ChatGPT, OpenAi and Bard are some buzz words you may have heard a lot about lately. But, while they scrub the internet to give you answers in real time, Searchie Ai is for YOUR content. That means the AI-created results are based on your audio or video files.
This incredible feature saves you time and energy by automatically writing everything you need to share with your audience. And you'll see why AI-generated headlines, titles, descriptions and summaries are huge deal in helping you create automatic Zoom meeting notes.
Step 1. Create A Searchie Account & Login
You'll need a Searchie account to completely revolutionize and automate your Zoom meeting notes process. Go to app.searchie.io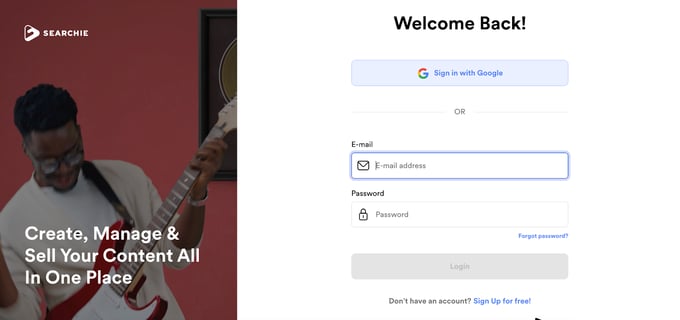 Step 2. Connect Your Zoom Pro Account To Searchie
Next, you will need to sync your Searchie account with a Zoom Pro account. This will allow you to import cloud recorded meetings immediately—and automatically—after they are recorded.
Reminder: Searchie is recognized in the Zoom App Marketplace. You'll need a Zoom Pro account to sync cloud recordings directly to Searchie.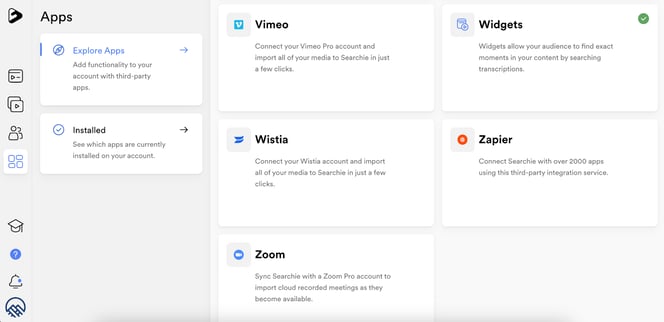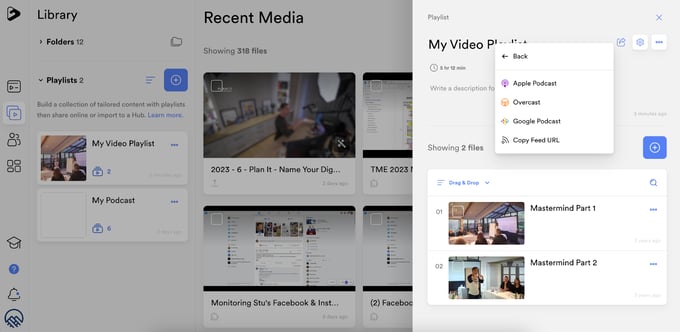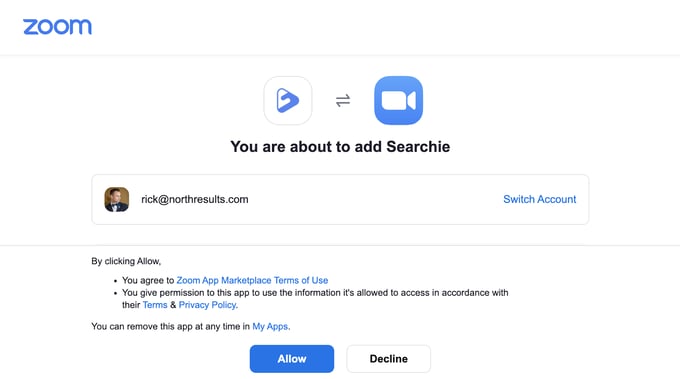 5. Automatic Transcriptions & Captions Through Searchie
Every Zoom call recording is transcoded after it's automatically or manually uploaded to your Searchie account. That means it's transcribed, caption and entirely searchable by keyword spoken.
You can search inside the video by keyword, such as someone's name, a key talking point, or an important date, for example. You will see why this is important in the next step.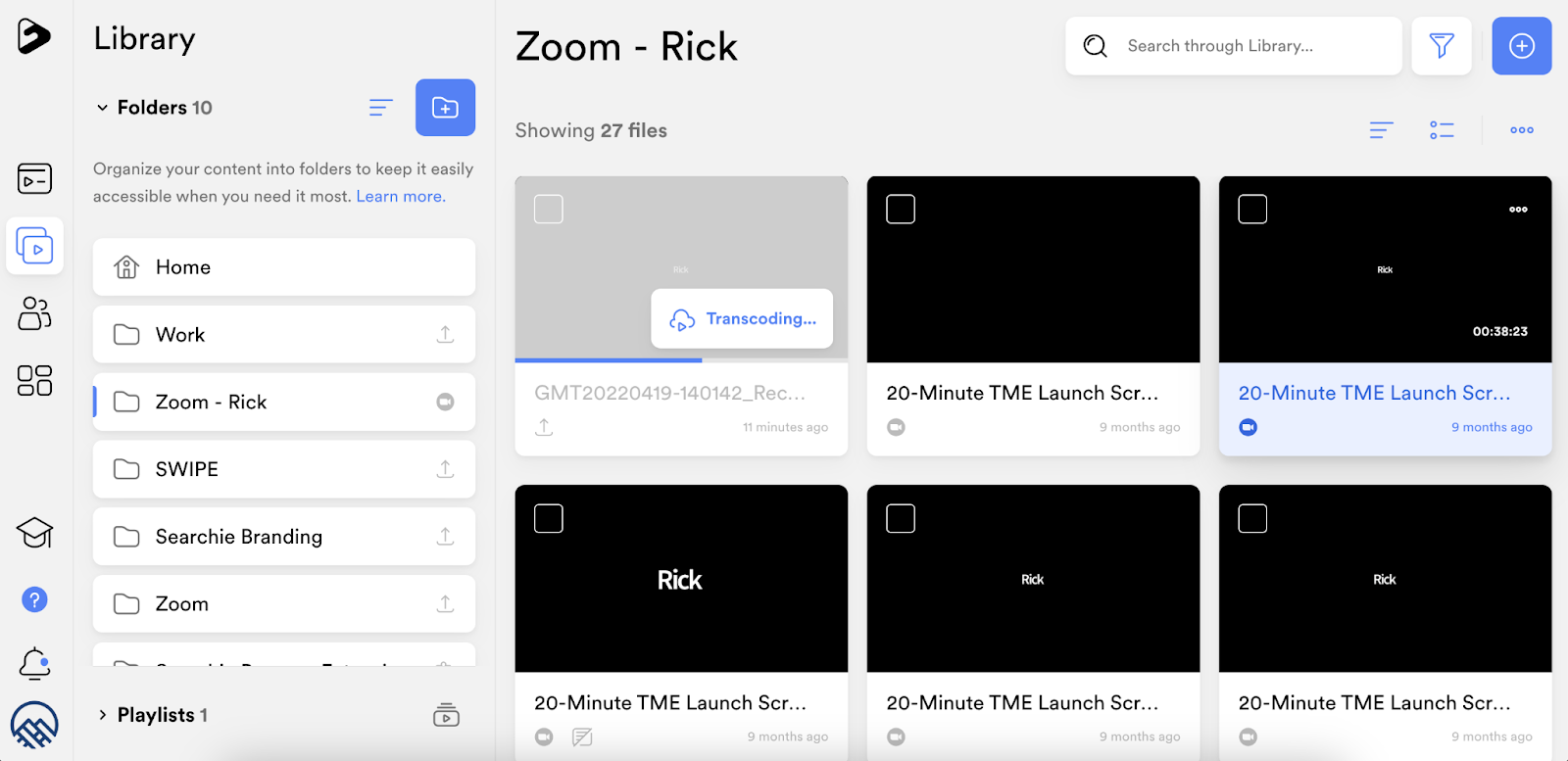 6. Generate Suggestions For Your Content & Create Automatic Zoom Meeting Notes With Searchie Ai
Once the file has been transcoded, you can then use Searchie Ai to generate content for your recording, including title, description, chapters, long summary, key takeaways and content tags.
Simply click the media file and the side panel will slide out from the right side of your screen.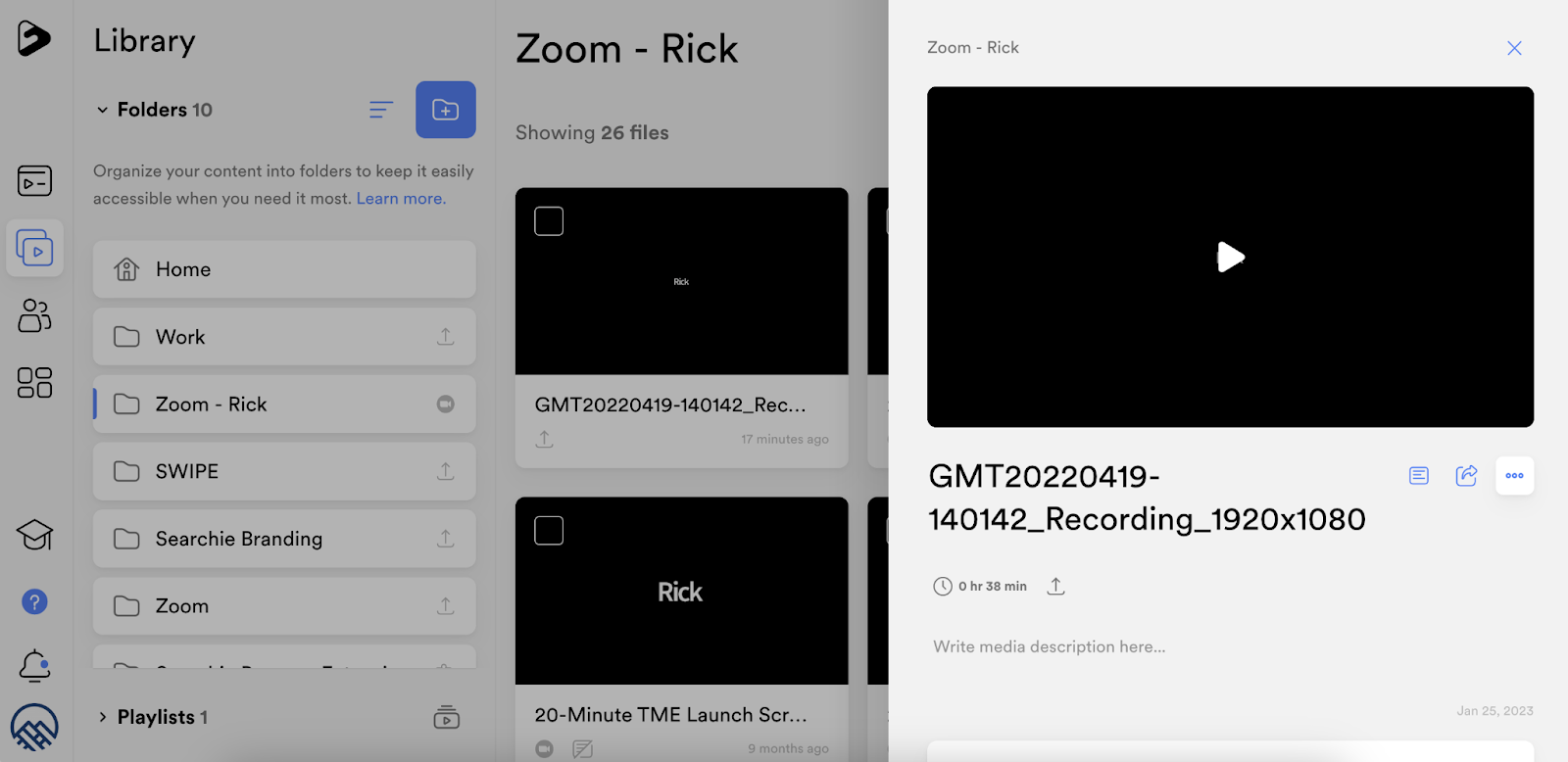 Scroll down to click Searchie Ai.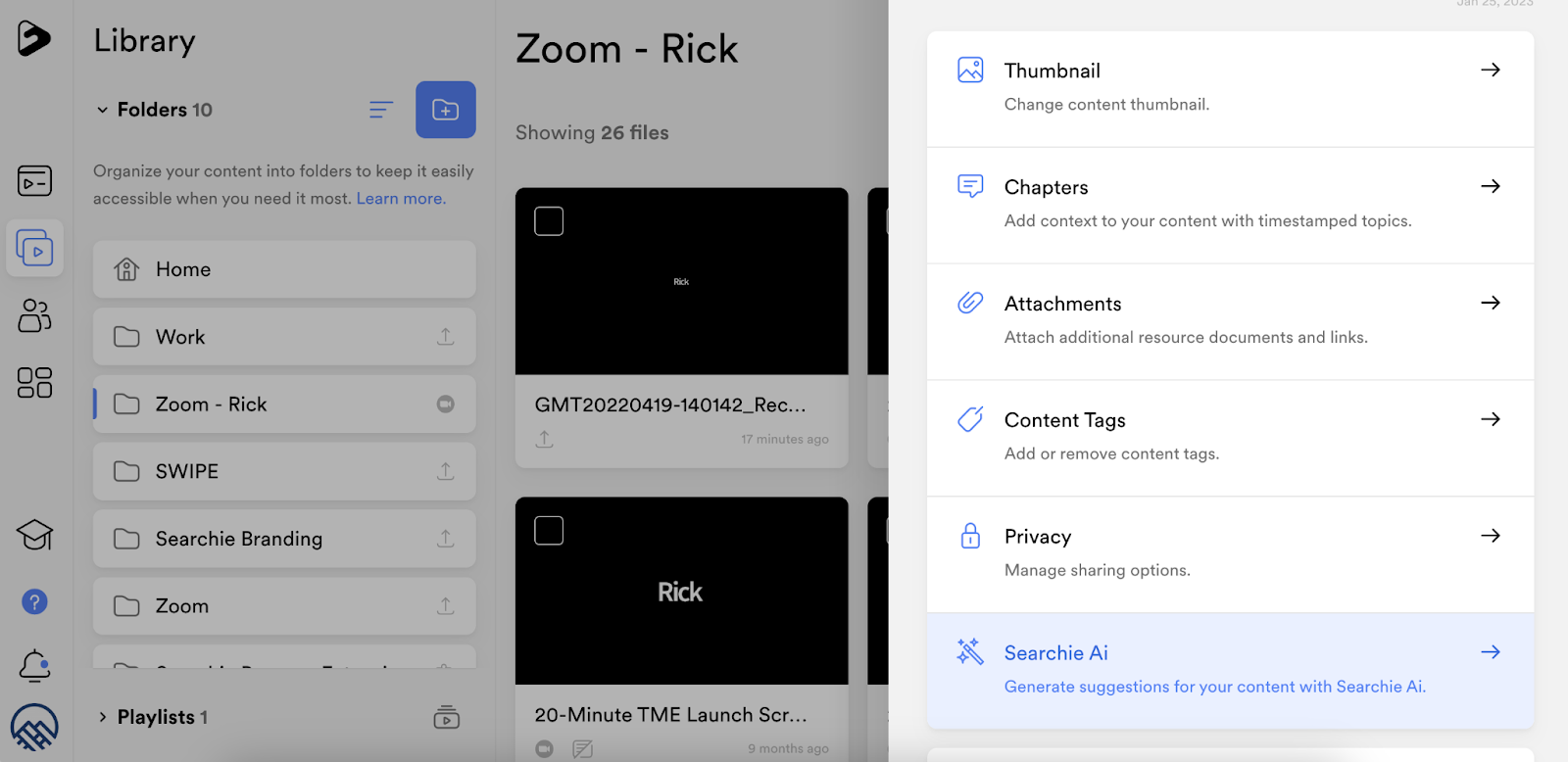 Once clicked, Searchie Ai goes to work. It may only take a few minutes; however, it depends on the length of your Zoom recording. You can close the panel—and Searchie will send you a notification when the suggestions are ready!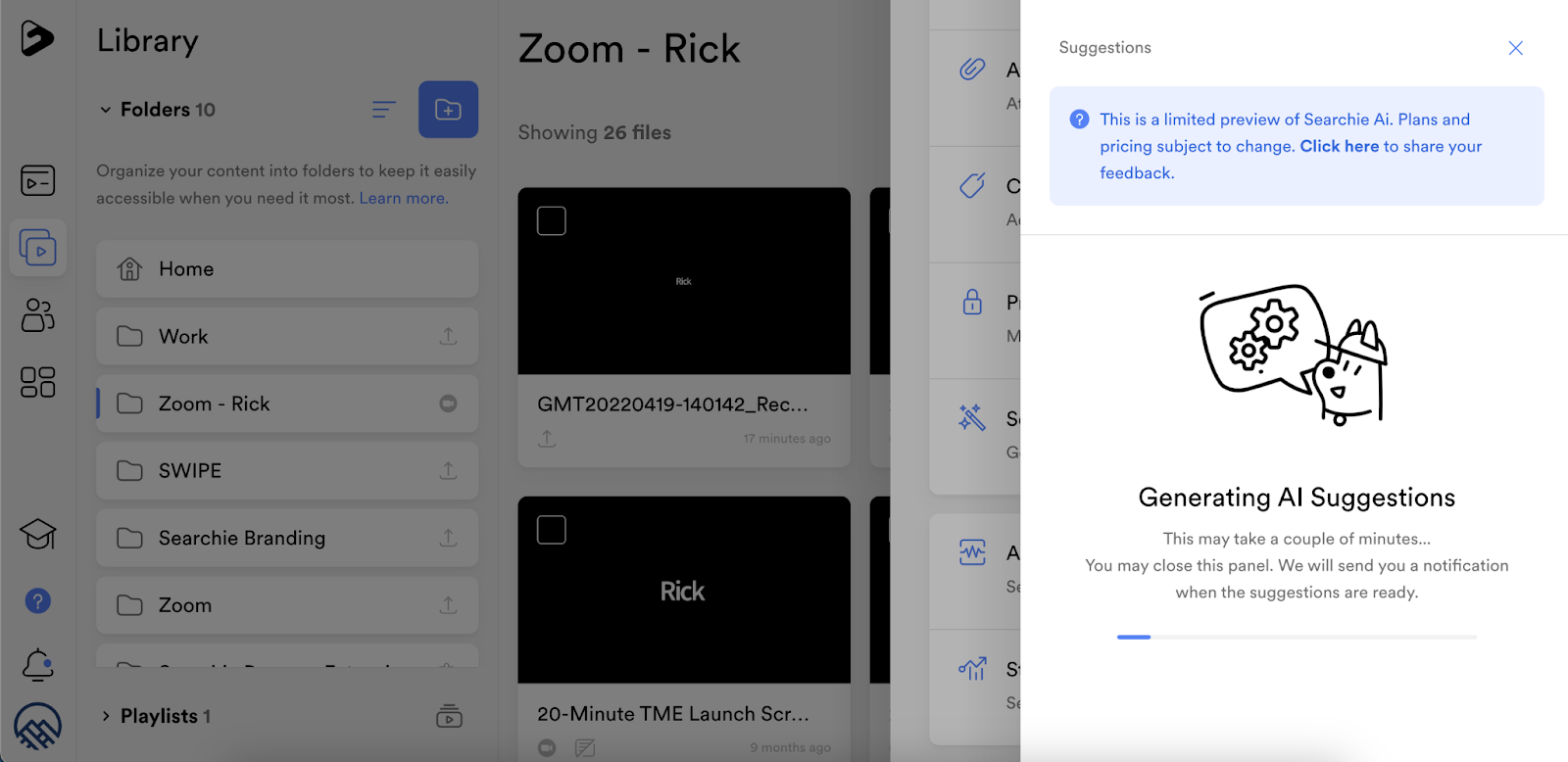 7. Copy & Paste What You Need For Your Zoom Meeting Notes
Searchie will generate a ton of suggestions for you based on the content inside your Zoom recording in just a few minutes. You then pick and choose what you'd like to include in your Zoom meeting notes!
Quick Tip: If you're not satisfied with your results, you can use the "replace" button to generate new suggestions for your content.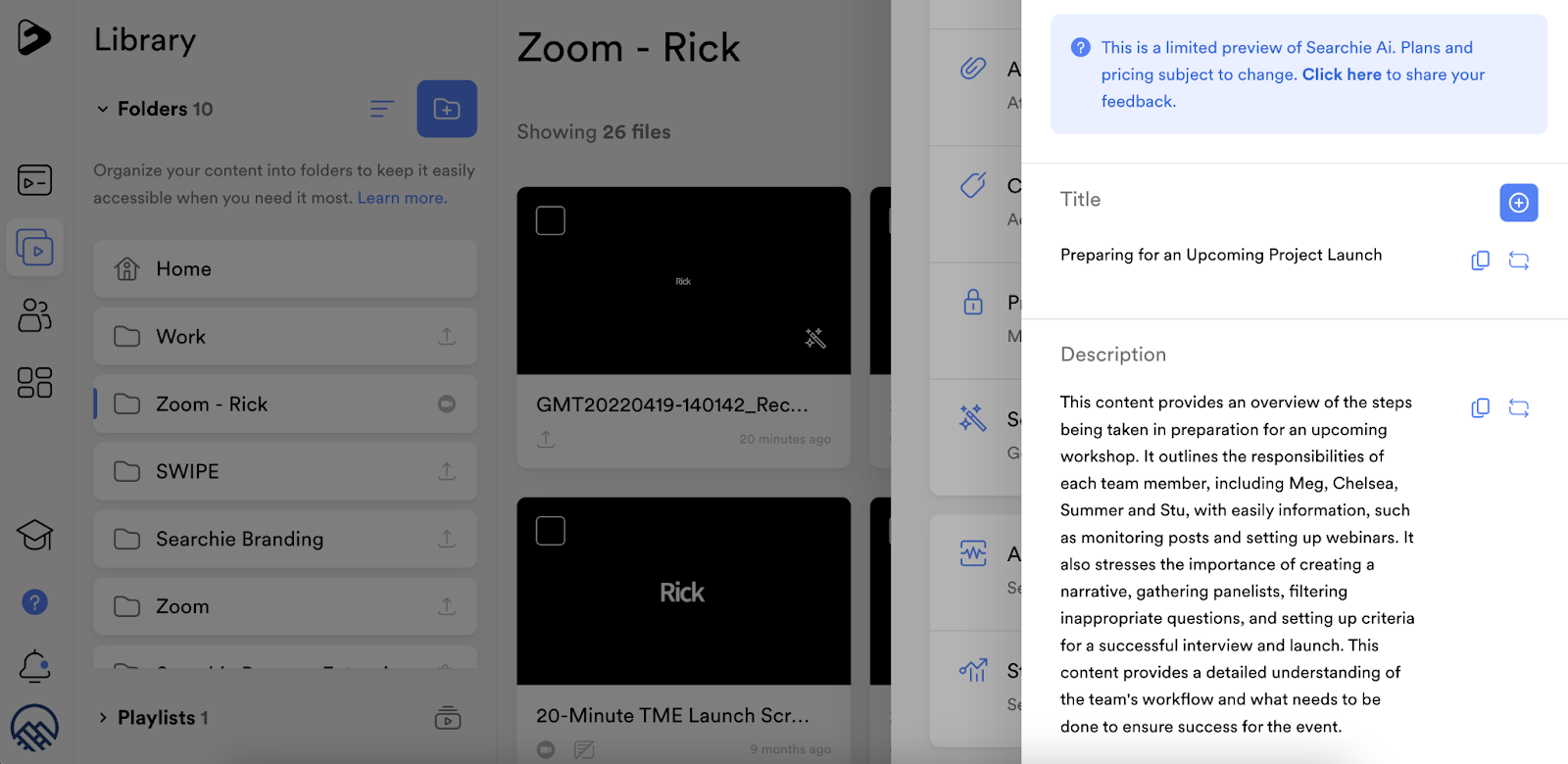 Simple Email Template Using Searchie Ai For Your Zoom Meeting Notes
Once you've completed the above steps, you're ready to dramatically speed up how your write Zoom call notes. Use this simple template below for sharing meeting notes by email:
SUBJECT LINE: [INSERT SEARCHIE AI TITLE SUGGESTION]
Hello [NAME],
Please find below a summary of our discussion today:
[INSERT DESCRIPTION FROM SEARCHIE AI]
For a high level overview of our discussion, please see key takeaways below:
[INSERT KEY TAKEAWAYS FROM SEARCHIE AI]
Thanks!
[NAME]
Ready To Create Automatic Zoom Meeting Notes?
Now that you have got this far, you can see how easy it is to connect Zoom and Searchie—and how quickly it can be to summarize and create key takeaways for your Zoom calls in literally just a few minutes.
Save yourself a ton of time and energy with Zoom meeting notes and get started with Searchie today. Start your 14-day free trial.
Sources
(1) 31 TRENDING ZOOM MEETING STATISTICS [2023]: HOW MANY PEOPLE USE ZOOM? https://www.zippia.com/advice/zoom-meeting-statistics/
(2) Zoom User Stats: How Many People Use Zoom in 2022? https://backlinko.com/zoom-users
Reimagine Your Business
Create the ultimate digital content experience for your information business with Searchie Hubs. Courses, memberships, coaching programs... you name it!