How To Build A Hub For Your Wedding Video Content Using Searchie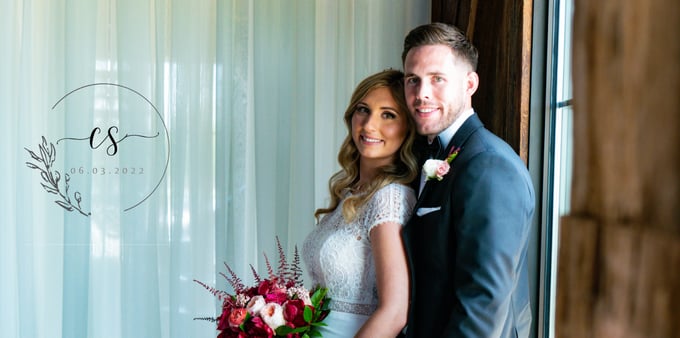 Weddings are stressful. This should come as no surprise to anyone who's ever planned one or been a part of one. But when the big day is all over, you can finally breathe a sigh of relief, right? Everything is done, there's nothing left to plan, no vendors to email, no drama you're trying to avoid by making sure your fussy great aunt and your grandma aren't sitting at the same table.
In many ways yes, the stress is over.
But as someone who recently tied the knot, there was one little bit of residual stress that followed me into the early days of my married life: what to do with all my wedding video content.
Sure, we had the professional footage from the videographer who provided us with the wedding highlight reel, plus all the raw footage from the ceremony, speeches, dancing, and various moments throughout the day (we'd specifically requested to have all the raw footage).
But we also had a number of clips that our friends and family captured. We were flooded with texts and emails sending us some really amazing videos. This was great, don't get me wrong, but I struggled to think of a way to organize everything and keep these videos from getting lost on our phones or in our inboxes.
I'm also someone whose phone is constantly on the brink of combusting from lack of storage space. As a result, keeping all these videos on there just wasn't a practical option.
So, yes, the stress of the big day was over. But then I found myself stressing about what to do with all the incredible wedding footage!
And then it hit me like a ton of wedding bells…
I could use Searchie!
This brainwave led me to put together a wedding Hub to gift my husband at Christmas. And it was a massive hit! We sat around with my family on Christmas Day and relived some of our favorite moments from the wedding.
So if you want to learn how to build a Hub for your wedding video content using Searchie, then stick with me—I'll show you just how simple it is!
Why I Chose To Use Searchie For My Wedding Video Content
I know I'm biased, but I happen to think Searchie is the best platform for creating, organizing, and selling digital content.
But it can also be used in a ton of different ways for different purposes.
Here are the things I already knew to be true about Searchie:
Creating a stunning customized Hub to host my videos would be a piece of cake
Uploading wedding video content from my computer to my account would be easy and only take a bit of time (I hada lotof videos to upload)
Sorting the videos using the Playlist and Scroll Sections features would make organization a breeze
Video titles would automatically be generated using Searchie Ai—no human brain power required
My Hub could easily be shared via a link with family and friends to watch wherever and whenever they wanted!
Once I realized this was the solution to all my problems, it was a no-brainer to build a Hub for my wedding video content using Searchie.
1. Upload Video Footage To Your Searchie Library
If you're already a whiz at this step, feel free to skip to the next.
I already had all the videos downloaded on my computer, which made uploading them to Searchie really simple using the drag-and-drop feature. But you can also upload your video footage using tools like Google Drive or DropBox. Here's a help article to get you started.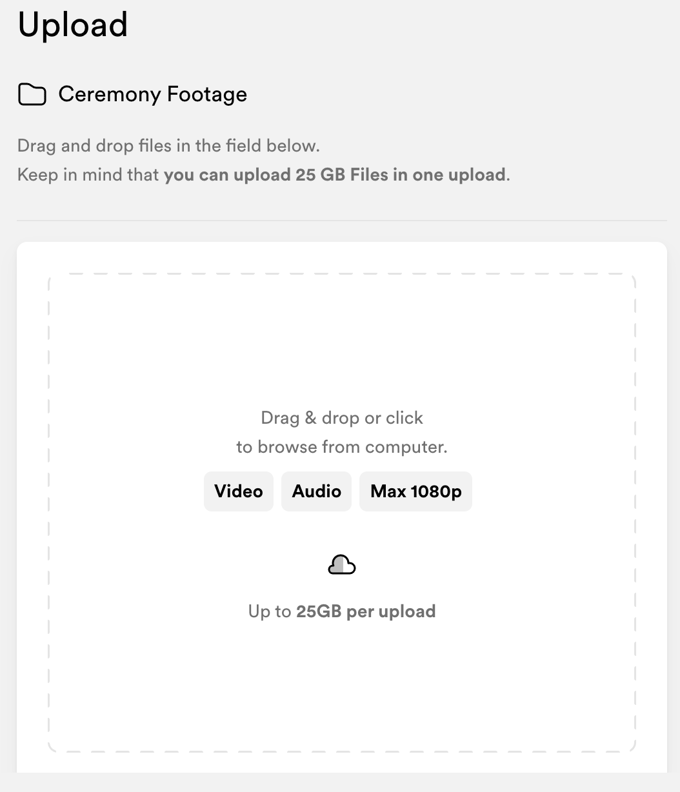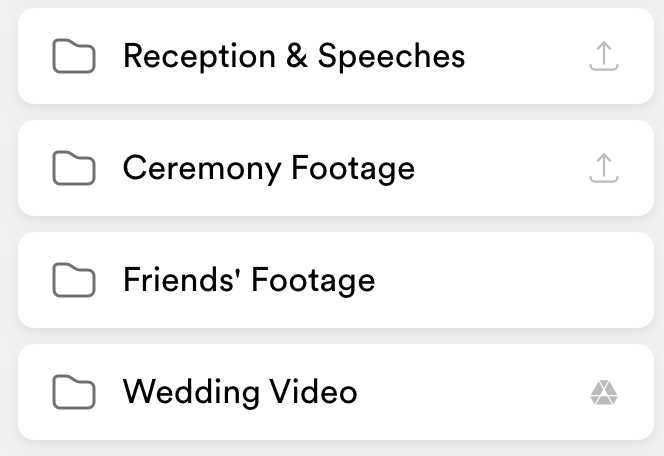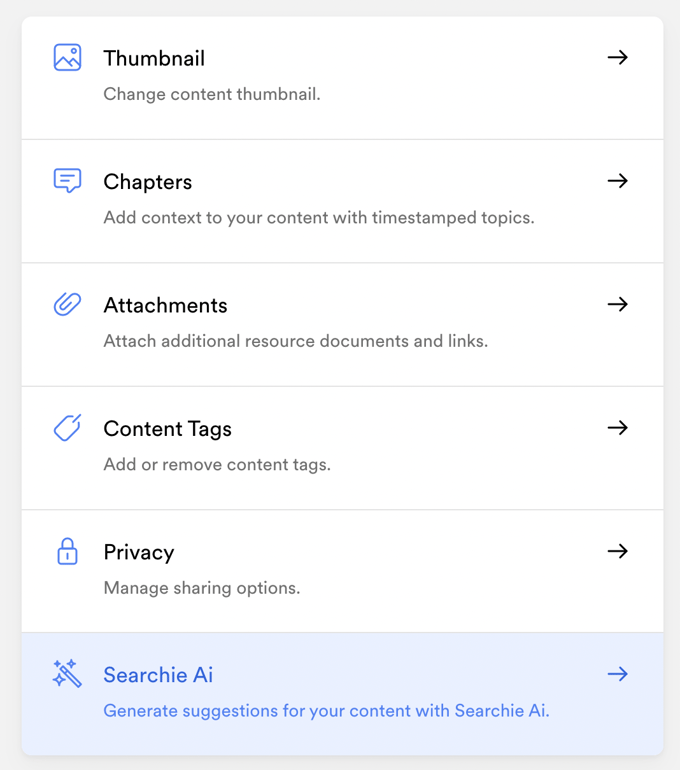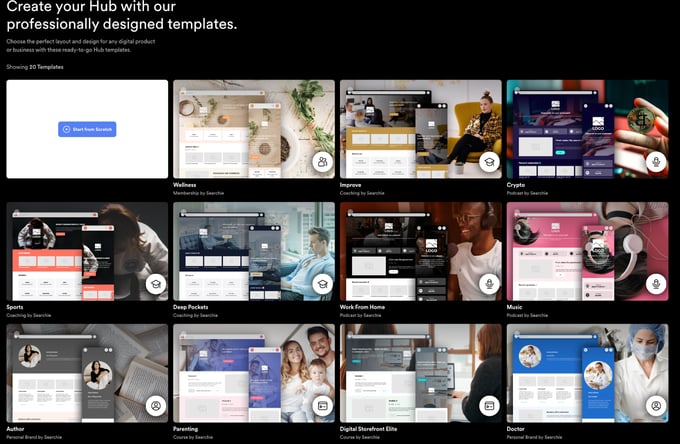 5. Whip Up A Custom Logo On Canva & Add An Image
Thankfully, this step was really easy for me due to Searchie's native Canva integration. It was great to play around with all the tons of free graphics and designs Canva has to offer and then easily add the final product to my Hub.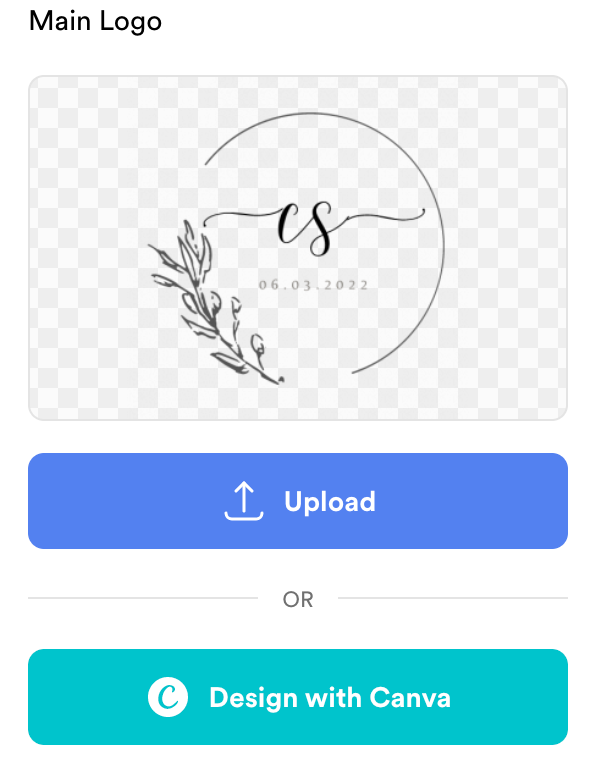 Chances are, you'll have about 1,000+ wedding photos to choose from. I uploaded one of my faves to be the main image at the top of my Hub.
By this step you'll have nearly built an entire Hub for your wedding video content using Searchie! You'll be in the home stretch.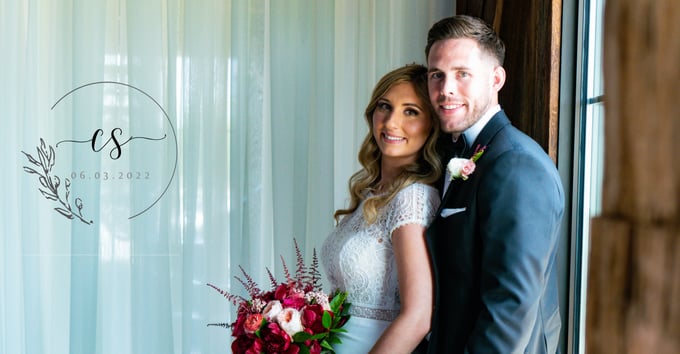 6. Organize Your Content Using Scroll Sections
Next, I created Scroll Sections that broke my videos into different categories to keep everything neat and tidy. The sections are Wedding Video, Ceremony, Reception & Speeches, and Friends' Footage. I used Canva again to choose a background for each scroll section.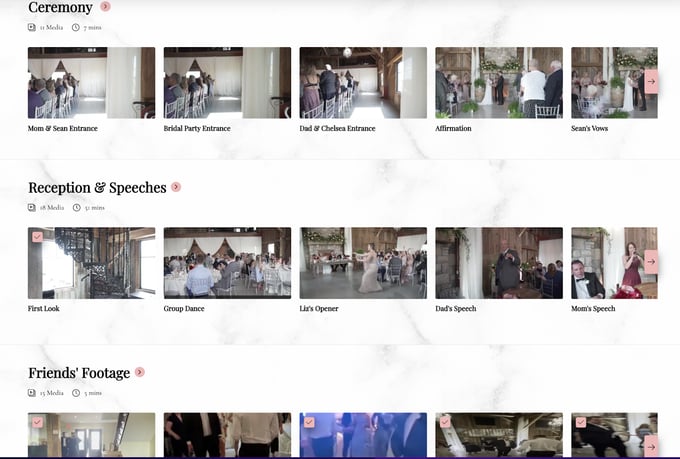 7. Share Your Completed Hub
I'm so grateful to now have all my video content in one place, perfectly organized, and displayed in a visually appealing way (if I do say so myself).
It's now super easy for me to share all my wedding videos with family and friends. In fact, when my husband and I went to visit his family in England, we watched all the videos with them—no problem.
Searchie really took what was an overwhelming situation and made it so simple to organize and build a Hub for my wedding video content.
So, what do you think? Will you build a hub for your wedding footage using Searchie?
Endless Possibilities
Ever since building a Hub for my wedding video content using Searchie, I've become keenly aware of the many other unique ways the platform can be used to document important events and life milestones.
I'm expecting a baby soon, and I already have a collection of videos on my phone surrounding my pregnancy—like when we traveled to England to surprise my husband's family by showing them my bump (they didn't know I was pregnant and their reactions were priceless!) or capturing the whooshing of the baby's heartbeat at that first ultrasound.
The baby isn't even here yet, and already my phone is filled with videos to do with him. I can only imagine how much footage he'll accumulate in the first few weeks alone.
But I'm not stressed about what to do with these videos anymore. They won't live on a dusty hard drive or on the depths of my old laptop.
Nope.
I know I'll build a baby Hub so we can easily organize and share video of him with our family and friends.
And you can absolutely do it too, following the same steps that I outlined in this blog!
The possibilities of what you can create with Searchie truly are endless. Try it today!
About the Author
Chelsea Beck
Since 2015, I've been fortunate to have worked in a number of different industries. My professional career has taken me from culture and heritage to film and television, public history, and marketing—but my passion has always remained in storytelling and connecting with others through the written word.
I'm currently a copywriter at North Results and have enjoyed the challenge of writing for two brands, specifically helping to develop a voice for Searchie, our SaaS product.
Reimagine Your Business
Create the ultimate digital content experience for your information business with Searchie Hubs. Courses, memberships, coaching programs... you name it!