Calling all digital rookies. We all have to start somewhere, right?
Think about your favourite athlete, they were a rookie at one point too. Now think about what they accomplished in their career. It's a marathon, not a race. You could be the [insert celebrity athlete here] of tech!
Okay, okay… maybe that seems like a huge feat.
What about semi pro?
Whatever your end game looks like, don't worry, we're here to help you. Even if tech makes you feel like this, you're not alone: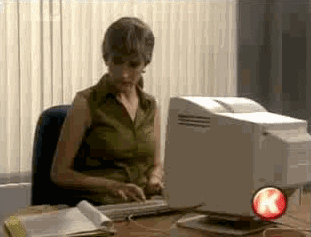 Really though, tech can be overwhelming to say the least.
Searchie understands this (really well) and that's why we've designed our platform, Hubs and Searchie Chrome Extension with you as our user, and YOUR users, in mind.
We like to keep things simple to not only eliminate tech overwhelm, but also to reduce the actual time that you need to spend inside of your account. As much as we love you using Searchie, we know that you probably don't want to spend needless time fiddling with your content and building your Searchie Hub.
No idea what a Searchie Hub is?
The shortest, bare-bones description we can give you for the sake of keeping the blog short and sweet, is that Hubs are where you package up your content to share. Think of Searchie as your content library to store all of your audio and video media files. Your Hub can be a course, membership, podcast, sales page…you name it.
We literally make it as easy as 1..2..3 with our simple three step process to get your Hub up and running!
Sounds too good to be true?
Fair enough, we get it. We'd be skeptical too if someone told us there was a magical app that had an amazing support team, loads of features to boost content accessibility, weekly live training calls…it sounds awesome. 😉
We can keep tooting our own horn, but let's get into it!
Here's why Searchieland is the perfect place for any non-tech-savvies…
Reason 1
You Don't Need To Know How To Code
You can say that again. No code knowledge? No problem.
Java? Python? As far as we're concerned, you can keep thinking those are coffee and snakes.
Design your membership site without needing to learn a whole other language. Simply drag and drop! Our site builder, also known as the aforementioned Searchie Hubs, allows you to pick and choose content from your account and place it wherever you want to see it on your site.
Want to create a banner with your welcoming video, a button linking to an assessment and an eye-catching background image? Easy-peasy. Use Hub sections to create call to actions, show off featured media and more.
Need a visual? Peruse through our demo Hubs here.
Reason 2
Searchie Will Import Your Content For You
Do you produce video content? Is your video content scattered?
Some in Vimeo…
A few Facebook lives…
Google Drive… Dropbox…
You probably have videos in more places than you realize. With Searchie's media connections, you can import your content in no time. Seriously, we're talking just a few clicks.
This means that not only will your current content live in Searchie, but your future content will get automatically imported and organized too. Hence automatically. These bad boys (our media connections) are automated, baby! One you've connected your account(s), any new content will be pulled into your Searchie account the moment you finish recording.
How cool is that?
What's even cooler is all the extra time you'll have on your hands. Automation = less time you need to spend performing uploads manually. YOu'Re WelcoMe.
"What if I can't find my video?!"
All good, if you don't know where it is, the handy internal search bar at the top of your Searchie account has you covered. For a site literally called "Searchie", you'd be surprised how little time you'll actually spend searching, since all your content is super easy to locate.
Wondering what other ways you can import media? Here's a support article showing you all of our current media connections and how to connect.
Reason 3
Design Graphics In A Couple Of Clicks Using The Canva Integration
No graphic design skills? Hey, we can't all be Picasso's.
Our Canva integration allows you to design graphic assets easily, in only a couple of clicks.
If you already have your company branding in Canva, you're laughing! Our native integration allows you to pull from your "All My Designs" folder in Canva.
Maybe you're just hearing about Canva for the first time now?
No need to be intimidated. Canva is the Searchie of Design apps if we're talking ease and simplicity. You can create an account for free, and save on all those costs that come with hiring a graphic designer.
Tap into your inner artiste and design what you need in a flash! Pick from hundreds of different templates to effortlessly create something that looks like you could add it to an art gallery.
No more figuring out what colours look good together or trying to get the right vibe for your site. Pick the template that speaks to you, then pop it into your Searchie account.
We even made this handy Canva size guide to show what template sizes work best inside your Searchie Hub.
Reason 4
Automation Options To Save Time And Money
We alluded to this in Reason #2, but let's go a bit deeper into what automation can really do for your business.
If you're new here, brace yourself, we're about to drop some serious Searchie lingo. Don't worry, because you can register and attend our Searchie 101: Getting Started live training and get totally up to speed. Try and stick with us though:
Using the media connections that we spoke about earlier, you can automate a populated Playlist. For example, if you have a Playlist with all of your Facebook lives, you can connect the media source so that as soon as a new Facebook live is imported into your media connection Folder (internal), it will then automatically be added to your Playlist (external).
If that totally lost you, check out this training video on how to edit and share a Playlist.
The biggest takeaway from this is that automated Playlists mean you don't have to update your site every time you add a new video. Connecting your playlist to a content source means your playlist will automatically update as you add more content along the way.
Say goodbye to frequent check-ins and waiting until videos are done uploading before turning off your computer. "Buh-bye!"
Not only is this feature perfect for any regular calls you host (such as coaching calls or Facebook Lives), but you'll be shocked with how little effort it takes to run this well oiled machine.
Ou! We almost forgot, make sure you turn on auto-processing, but keep in mind that these will count towards your monthly upload hours.
Reason 5
Create Content Without Any Frills
Remember when we used to call each other instead of texting? Ahh, the good ol' days.
It took so much less effort, we didn't have to worry about spelling mistakes, we could just speak and be heard. The Searchie Chrome Extension is just like that. All you need to worry about is being present, speaking clearly while you record, and sharing your knowledge and expertise. Searchie will do all the work to transcribe and caption your recording, making it totally searchable for your audience.
Use our Screen Recording feature to record your screen, your camera or a combination of both. The added annotations feature makes it perfect for filming tutorials, video messages, and feedback sessions.
Unless Meryl Streep or George Clooney are reading this…we're guessing you may need a few takes to get things right.
Don't stress, we've got you covered.
Not only do these recordings not count towards your upload hours, but you can share your files immediately after filming. That means gone are the days of filming for hours and uploading, just to delete the first 15 takes. Hunny, you deserve the star treatment✨.
The limelight is calling your name, so get filming, then let us know what you think!
Reason 6
Duplication: Double Fold The Fruits Of Your Labour
Correction, Triple Fold…Quadruple…
Duplicate to your heart's content! The Duplicate Feature allows you to do more of what works, and less of what doesn't.
Have you ever spent a long time perfecting something … and then realized you have to do it again? We don't have time for that here. With the Duplication feature, you can duplicate Playlists, Hubs, and Hub Pages to create as many different versions of your content as your heart desires.
Multiple tiers? No problem.
Experimenting with slight variations? Even better.
Just click the sweet little duplicate button and watch your work multiple with only a couple of clicks.
Ticking All Of The Boxes
We covered a lot, so let's recap all the reasons why Searchie is non-techie friendly:
☑ No coding, no problem. Host, embed or share your searchable video content with our easy-to-use tools.
☑ Automated media connections. Manual uploads are a thing of the past, we're helping you make time for more important things.
☑ Canva integration for easy-peasy design access. As a business owner, you wear enough hats. An artist's beret doesn't have to be one of them.
☑ Automation options to streamline your work. Let's save even more time, resources and money. Automate your Folders and Playlists so you or your VA can spend (way) less time updating.
☑ Create content on the fly using the Searchie Chrome Extension. Camera shy? It's okie, choose to record your screen with or without your camera on.
Let's also reiterate that uploads from the extension are unlimited. Yes, you read that right. Unlimited!
☑ Duplicate previous work to save time. Can we say efficiency? Don't waste time on redundant work, duplicate your Playlists, Pages, and Hubs.
With Searchie checking off the tech aspects on your to-do list, you'll be feeling a lot more like this: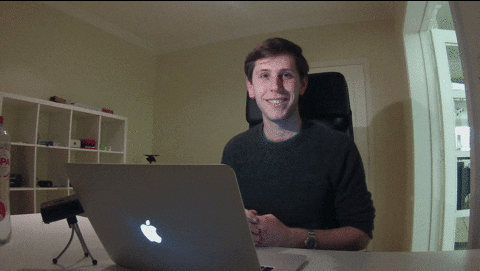 Are you tech savvy?
Let us know how much you're loving the simplicity of Searchie, or the pain points you're feeling.
Head to the private Searchie Facebook Community to connect with other like-minded community members, or reach out to our Support Team. Email [email protected] to chat with a teammate.