Searchie Hacks: How To Build A Sales Page With Searchie Hubs And Zapier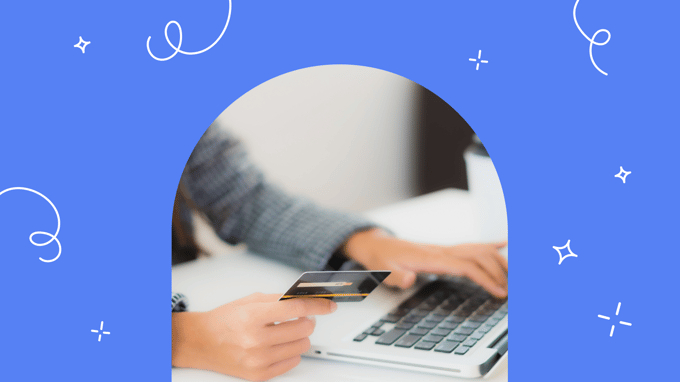 Have you ever had to build a sales page? Maybe you've thought about it, but don't know where to get started. There are countless platforms, templates and apps that you could use… But we're going to build a sales page with Searchie Hubs.
If you're an entrepreneur or an online business owner, you know how quickly your tech stack can grow—and how much it can cost. That's why we're dishing out different ways to use Searchie (aside from the obvious reasons, like automated captions, transcriptions, and so much more) so that you can get the most out of your tech. Plus, you'll save time and money.
The idea behind Searchie Hacks is to present a pretty specific use case, then provide the outcomes, what you'll need, and, of course, how to perform the hack. And we'll show you exactly how to do it in one short live training session. Oh, you haven't seen the recording? We turn all of our live hacks into these handy blogs, but you can watch all of the replays in the archive as well.
If you're just getting started with your business' sales page, or you want to simplify how you're currently creating them, then this hack will be an excellent option for you since it's very quick to set up an easy-to-manage solution.
To give you an idea of what we're looking to accomplish when we build a sales page with Searchie Hubs, let's dive into some more specific outcomes…
Outcomes
We're going to build a sales page with Searchie Hubs and Zapier (optionally). Our goal is to help you build a sales page from scratch with Searchie Hubs, and show you what's possible with Searchie.
A Simple, Searchie-based Purchase Flow
Simplicity is key.
Especially when it comes to collecting payments for your online products or services. No one wants to be fussing with credit card information, purchase details, chasing any missed payments…
We'll be looking at a very simple Searchie-based purchase flow (using Stripe). What we mean by that is something that takes your audience from learning about your product, all the way through purchasing that product or digital program from you!
You might think of this as a funnel, landing page, or sales page, but we'll be calling it a sales page for the purpose of this hack.
Zapier Purchase Zap
This is optional because Searchie has a native Stripe integration. So, if you're using Stripe you can go ahead and skip the Zapier steps. If you're using a payment processor other than Stripe, then this outcome is relevant for you. We'll go over adding your purchase "Zap" (this is a term explaining a Zapier connection between platforms) to connect your external shopping cart to Searchie.
Read more on how you can sell your knowledge, expertise, and know-how with Searchie in this blog.
Using Searchie's Stripe integration (Searchie Payments), you can connect multiple Searchie Hubs by creating a sales page with one Hub and then your program or product with another Hub. Searchie Payments is the barrier to entry, which allows you to protect and sell your digital product and content.
A Simple Way To Reduce The Number Of Softwares In Your Business
Just like we mentioned up top, we're giving you new ways to use Searchie and ultimately slash your tech stack. In non-tech-talk, we're looking to reduce the number of softwares in your business—so that you can save time and money (who doesn't want that?). Searchie can handle quite a variety of use cases, we're hoping this can be one more for you.
With all that being said, Searchie was not originally designed to be a sales page software. This is a Searchie hack. It's something you can accomplish in Searchie as a result of all the technology available to you in your account. Plus, we've seen a lot of people in our community get super creative with how you use Searchie to build beautiful sales pages. They actually kind of inspired this post, and we've seen even more since this live training call!
Take a look at Lacey's sales page… This is only 1 of 6!
Tools Required
You'll need a few tools to get started with this hack.
Ideally, you can do this with only Searchie and Stripe. And in this scenario, we would need multiple Hubs for this.
So you'll need to be on the Searchie Business Plan. That's a little hidden requirement, but if you're not on the Business Plan, then hopefully you are using Zapier already.. But, even if you're not on the Business Plan, you can still use Zapier to accomplish this Searchie-as-a-sales-page functionality in your account.
Searchie
This is obvious. You'll need a Searchie account to perform this hack. More specifically, a Pro or Business account because you'll need to use Searchie Hubs.
If you're on the Basic Plan and need to upgrade, check out other pricing options here and the sweet features that come with.
A Payment Processor
Stripe is great because it can be used natively inside of Searchie, too. You can use another payment processor, but you'll need a Zapier connection to make it work. Speaking about that…
Zapier
Again, this is optional. If you aren't using Searchie's native Stripe integration, you'll need Zapier to set up a "Zap" between your payment processor and your Searchie Hub.

Build A Sales Page With Searchie Hubs in 30 Minutes or Less
Usually, we like to keep Searchie Hacks to about 15 minutes, but designing a Hub takes just a little bit longer.
Of course, you can spend countless hours "perfecting" the design of a Hub, but if you're looking for a quick, easy sales page, you'll be able to spin this up and connect to one of your existing Hubs within 30 minutes or less.
But, in the words of Stu McLaren, "you don't have to get it right, you just have to get it going."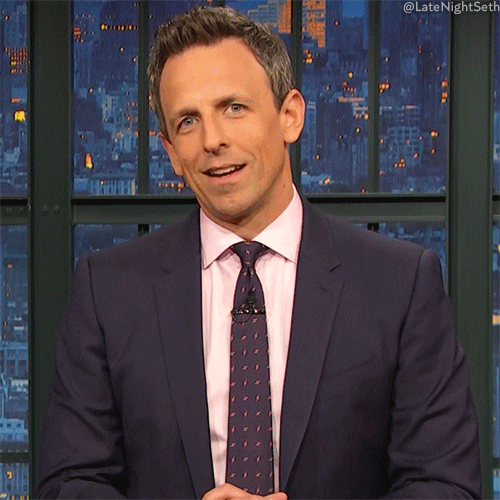 Step 1: Design And Build A Sales Page With Searchie Hubs
Okay, now that we've covered all of the housekeeping, you know what you need and what you'll be getting out of this Searchie hack… let's dive right in and build a sales page with Searchie Hubs!
Searchie Toolbox
First and foremost, go ahead and bookmark this absolutely free resource that Team Searchie has spun up for you; the Searchie Toolbox.
Jam packed full of font pairings, color combinations, and Searchie Hub templates, you'll have all the tools you need to create a stunning Hub. Not to mention, it's approved by the Searchie Designers. ✨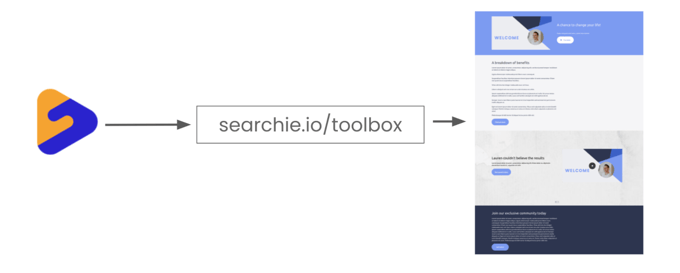 Now that you have a few new tools under your belt, you're ready to start Step 1 on this hack: Build a sales page with Searchie Hubs and Zapier.
This part has nothing to do with tech! It's just you getting to know your Hub and getting creative. Spend as much or as little time in this creative mindset thinking about what you want to present to your audience.
You don't need to be a designer. Just use the various Hub sections, those free layouts, the native Canva integration, and a little imagination, and you're well on your way.
If you're going to build a sales page with Searchie Hubs, it does rely a little bit on video and audio content. You could add an intro video at the top of the sales page, just something like: "Hey, welcome to the program."
In the live Searchie Hacks training call, we added a Featured Section at the top of the sales pages.
If you have an eloquent sales pitch or catchphrase, a short description, and maybe a very simple intro to the product you're selling, you can link it in your Featured sections as an opener.
Not sure what we're talking about? Just watch the replay. It will give a great visual on what we're explaining here.
Creating Your Site Map
Ultimately, it comes down to what you want to build. We'd recommend drawing a quick diagram on a piece of paper including what information you want to have in your sales page.
Things like which links you need or the media files you want to include. This could include an external link to your community Facebook group or event calendar, a video of you speaking about your offer, captivating text paired with thumbnail images… Anything and everything that you want to include in your sales page.
This training Playlist shows you how to build a Hub, and includes a wire frame template.
Once you have a clear idea of all the pieces you'll need to put together, then simply mix and match! Build a design and see what you think. If you don't like where it's lined up, you can very easily move the sections around inside of your Hub to accomplish a different look.
Need some more inspiration? Catch the replay for this Searchie hack here, or check out this article with the 21 best landing pages to learn from.
Setting Your Hub To Public
Before moving to Step 2, we want to make sure the sales page Hub is set to Public in the privacy settings. Since you'll be sharing this Hub with the world, you'll want people to come to your sales page and buy your product with no barriers for access.
So, that means making this page public instead of private, and that's super important.
Learn more about Searchie Hubs in this help article.
Step 2: Connect Hubs Or (Optionally) Integrate Zapier
Hubs, check.
Now that your "sales page" Hub is made, it's time to connect it with your second Hub. The second Hub is going to host the offering or program that you are trying to sell, like a membership or online course.
If you're already a Searchie user, you likely have this Hub already made. If you're just starting out, we have a plethora of training available in our resource directory. Go ahead and sign up for a live training call to get yourself started!
Why You Need The Searchie Business Plan
Because we're using one Hub as a landing page, we will need another Hub that will facilitate the actual program being sold in the sales page.
And then, if you aren't using the Stripe integration, we'll show you how we integrate Zapier and some options for replacing the Stripe integration and Searchie with your current payment processor.
Connecting Searchie Hubs (Or To Zapier)
Good news, this step is really quite simple. All you need to do is add a link to the bottom of your sale page so that your audience can make the purchase. That link will vary depending on your setup, so keep reading…
If you're not using the Stripe integration, you'll need some sort of Zapier automation to collect payments and grant access to your different products. Go ahead and skip to "Setting Up Your Zap".
If you're on the Searchie Business Plan, your sales page will link to a second Hub, ideally one that is using the Stripe integration to collect payments. This is achievable by grabbing the registration link for the Hub that people are going to pay for and then adding it to your sales page.
To find the link, go to the register page (on the Hub that you are selling, not the sales page Hub), and click on "Copy URL". Boom, you've secured the link.

Now that you have the register page ready, this is the link that they'll click on to complete their purchase after you've got them fired up and ready to go.
Setting Up Your "Zap"
If you're using another payment system, other than Stripe, you'll need to set up a "Zap" using Zapier. We won't go into great detail here, but we have tons of help articles to help you with Zapier, and of course the replay.
The Zap will essentially tell Searchie that every new subscription or new purchase made through your payment processor is going to add a new audience member in Searchie.
From there, you'll have granted them access to our Hub. Searchie sends an automated email (learn how to customize your emails here) where they can log in and access your sweet, sweet Hub.
Step 3: Finish Customizing, Publish, And Share Your Hub
You've built out your sales page! So you're pretty much done after Step 2… That wasn't so hard, was it?
We have added the register link to the Hub so that when people reach the bottom of your sales page they can purchase your product. When they click it, they're sent to the register page of your second Hub where they sign up and pay for your program, and then… they receive access.
Now the last thing to do is finesse, adding a little bit of customization, adjusting the appearance…
In Step 3, it's all about the cosmetics. You can choose to take some time to make your Hub slightly more refined by customizing your email templates, like we mentioned up top, or by adding a custom domain.
You could also perfect your SEO settings, adjust your Hub appearance to create a more cohesive experience for whoever is visiting your sales page. Maybe even change some menu items to show off more of your available products and/or resources…

You're done! What did you think?
Check out how other Searchie Community members are using this hack!
Mitch, Katrina, Lacey and Laura created their very own sales pages and shared them in the Facebook group. Be sure to join the community so you can show us your #SearchieStyle, and connect with other like-minded entrepreneurs and business owners.
Have an idea for our next Searchie: Hacks? Let us know! Post your topic idea in the Facebook group or visit searchie.io/votehacks to vote on our next Searchie Hacks topic.
Thanks for reading! Catch you in the next blog.
Reimagine Your Business
Create the ultimate digital content experience for your information business with Searchie Hubs. Courses, memberships, coaching programs... you name it!