Why Every Podcaster Needs A Podcast Website And How To Create Yours With Searchie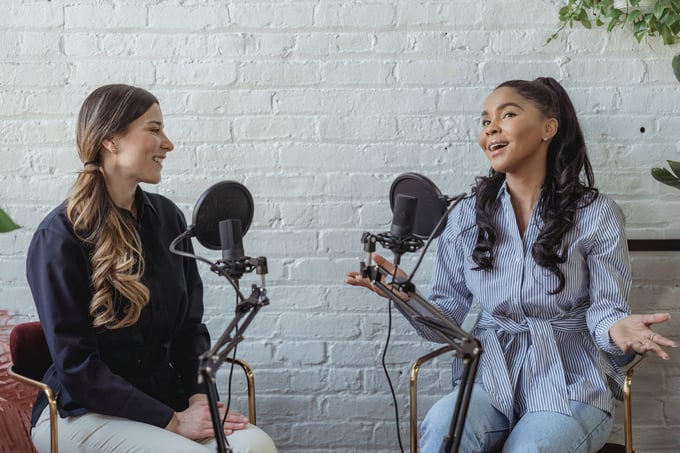 A The Simple Step By Step To Create A Podcast Website On Searchie
If you have a podcast, then you're well aware of the benefits for you and your audience. In this article, we'll show you how to create a podcast website for your podcast. That means, you'll need a podcast first!
Podcasts are a great way to reach a highly engaged audience, build a loyal following and establish your credibility and authority on any topic or niche.
Not only that, podcasts are super cost-effective. They can be low cost to produce and share. And there are huge benefits for your audience, too. Convenient, on-the-go listening makes it easy for your audience to consume while multitasking—driving, working out or doing chores around the house.
Bottom line, podcasts are a great way to grow your audience and spread your message.
If you're reading this, there's a good chance you're publishing your podcast on a major website like Apple Podcasts, Spotify and SoundCloud.
But, there may be an untapped opportunity that you can take advantage of with just a couple clicks.
What's A Podcast Website And Why Do You Need one?
A podcast website is just that. A website for your podcast where users can subscribe to your podcast, listen to episodes, read episode descriptions, access transcriptions, download additional resources, and in some cases, search through episodes by keyword. We'll get into that later.
Here's an example for Membership Expert and Searchie Co-Founder Stu McLaren's Marketing Your Business podcast. Visitors can pick and choose where they want to subscribe and listen to his podcast. In this case, they can listen on iTunes, Android or Stitcher.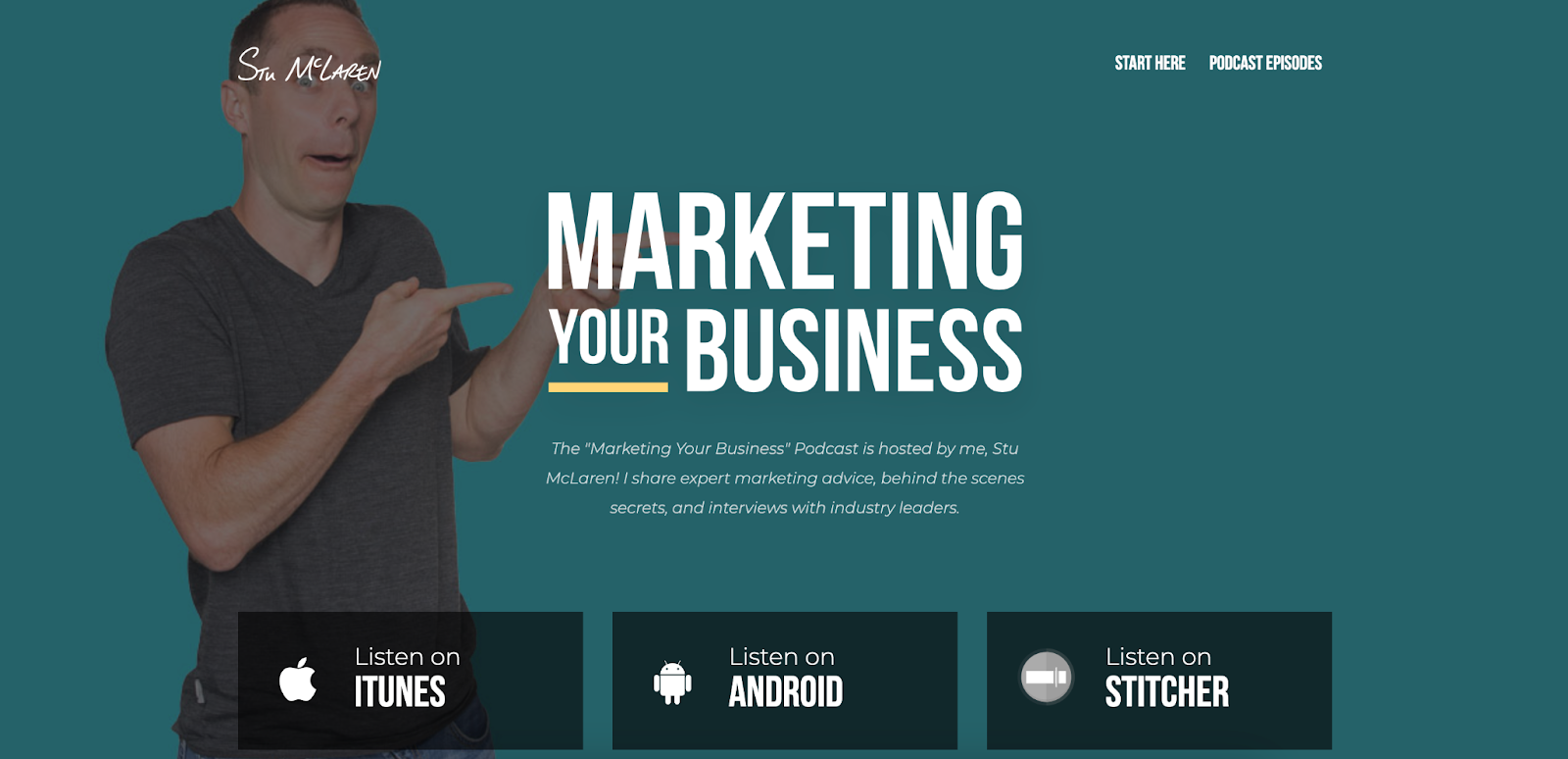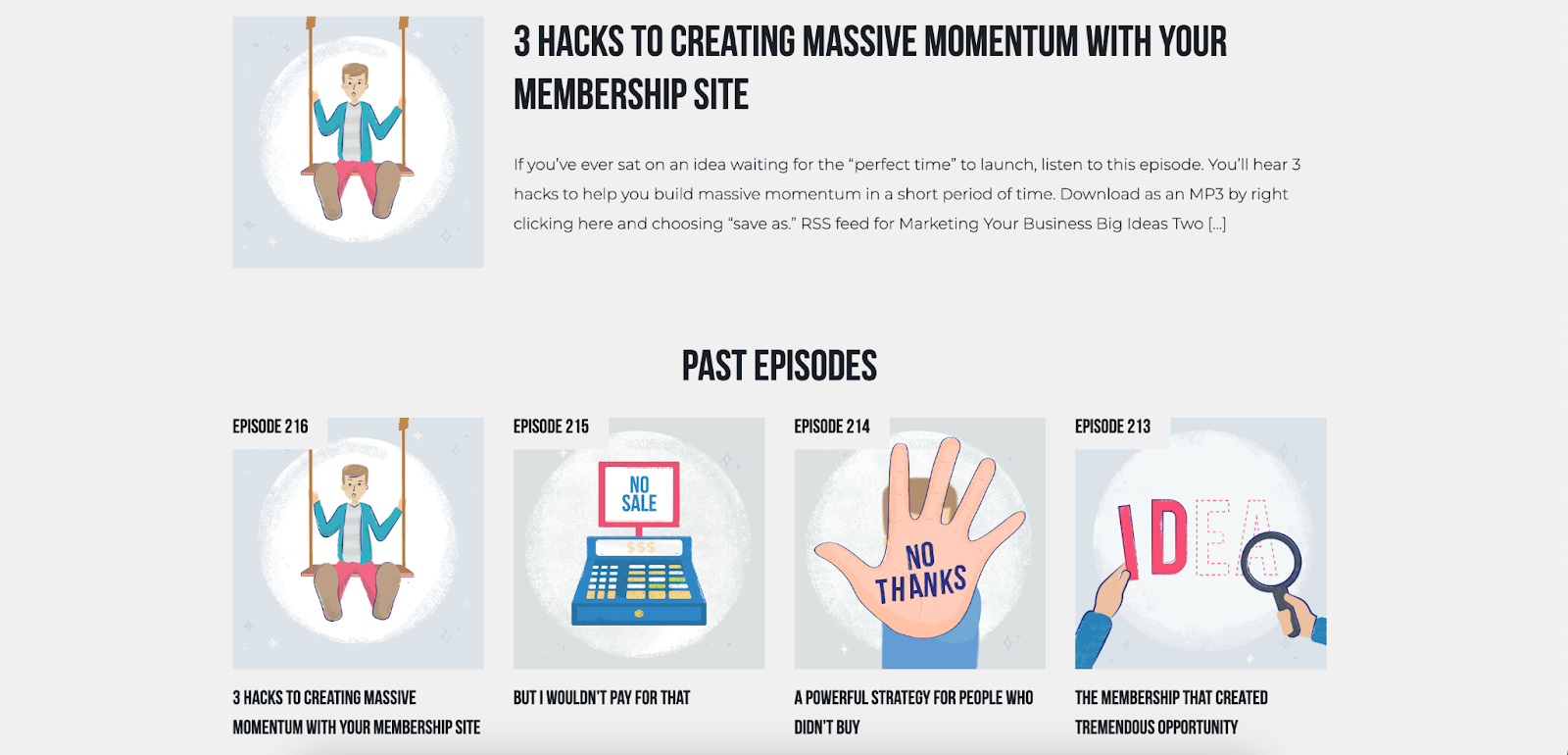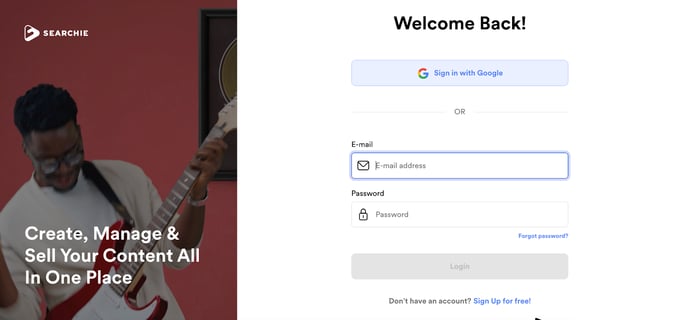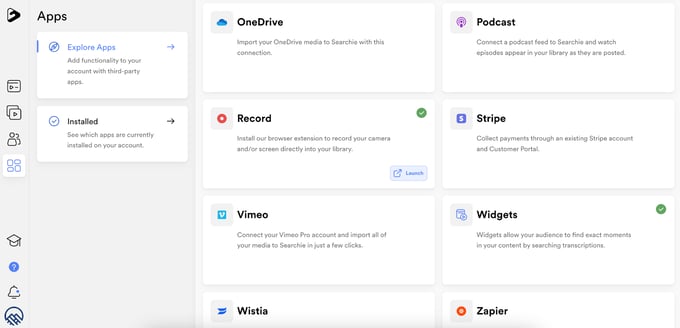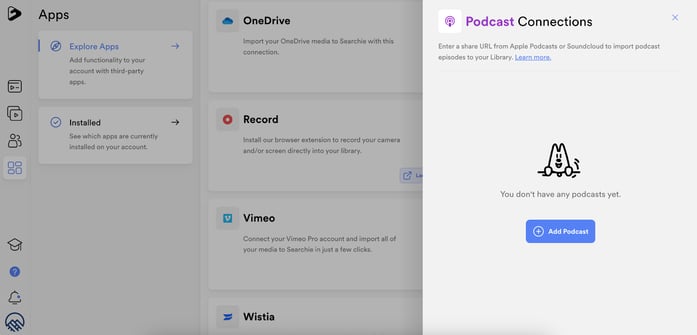 Step 3: Connect Your Podcast
After you click on the podcast button, you will be asked to Add Podcast by pasting the Apple Podcast URL. If your podcast is on SoundCloud, please refer to this article to find your podcast URL.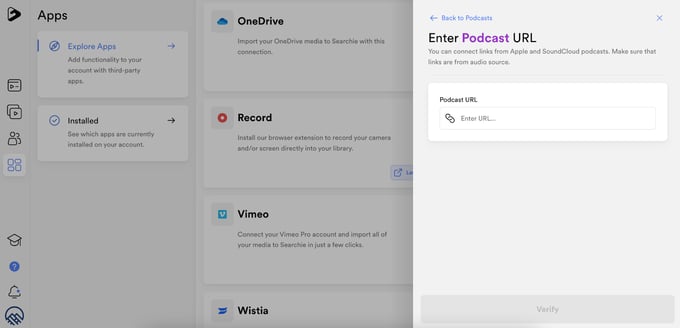 Find Your Podcast URL On Apple Podcasts
You will need your podcast URL of the podcast you want to connect to Searchie.
Open the Apple Podcasts application and find the your podcast to sync it to your Searchie account. You can also search for the podcast online (on Google or Bing) by typing "PODCAST NAME Apple Podcasts" into your search bar where PODCAST NAME is the name of the podcast you're looking to connect.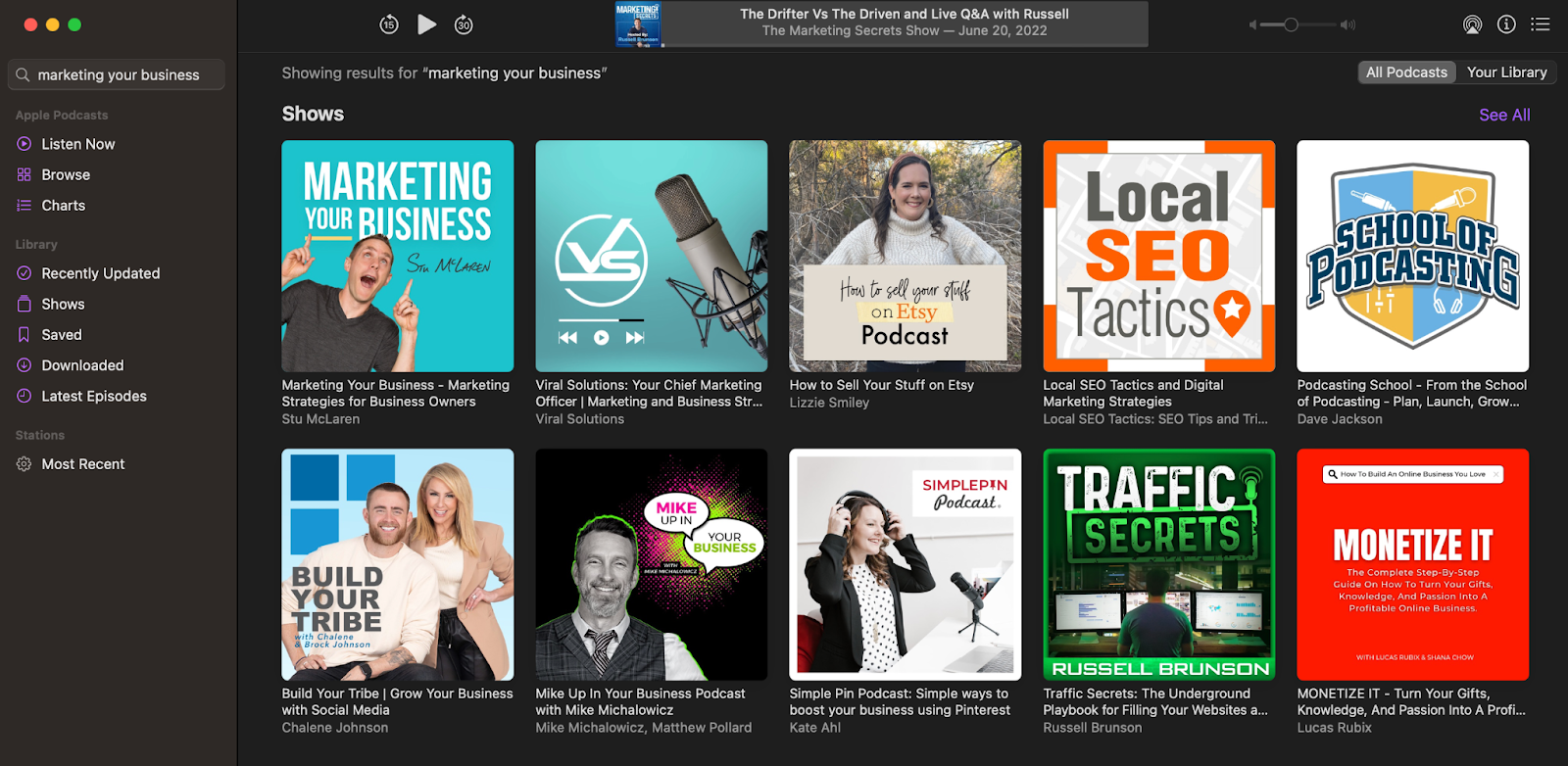 Once you have found your podcast, open the share options and click 'Copy Link'.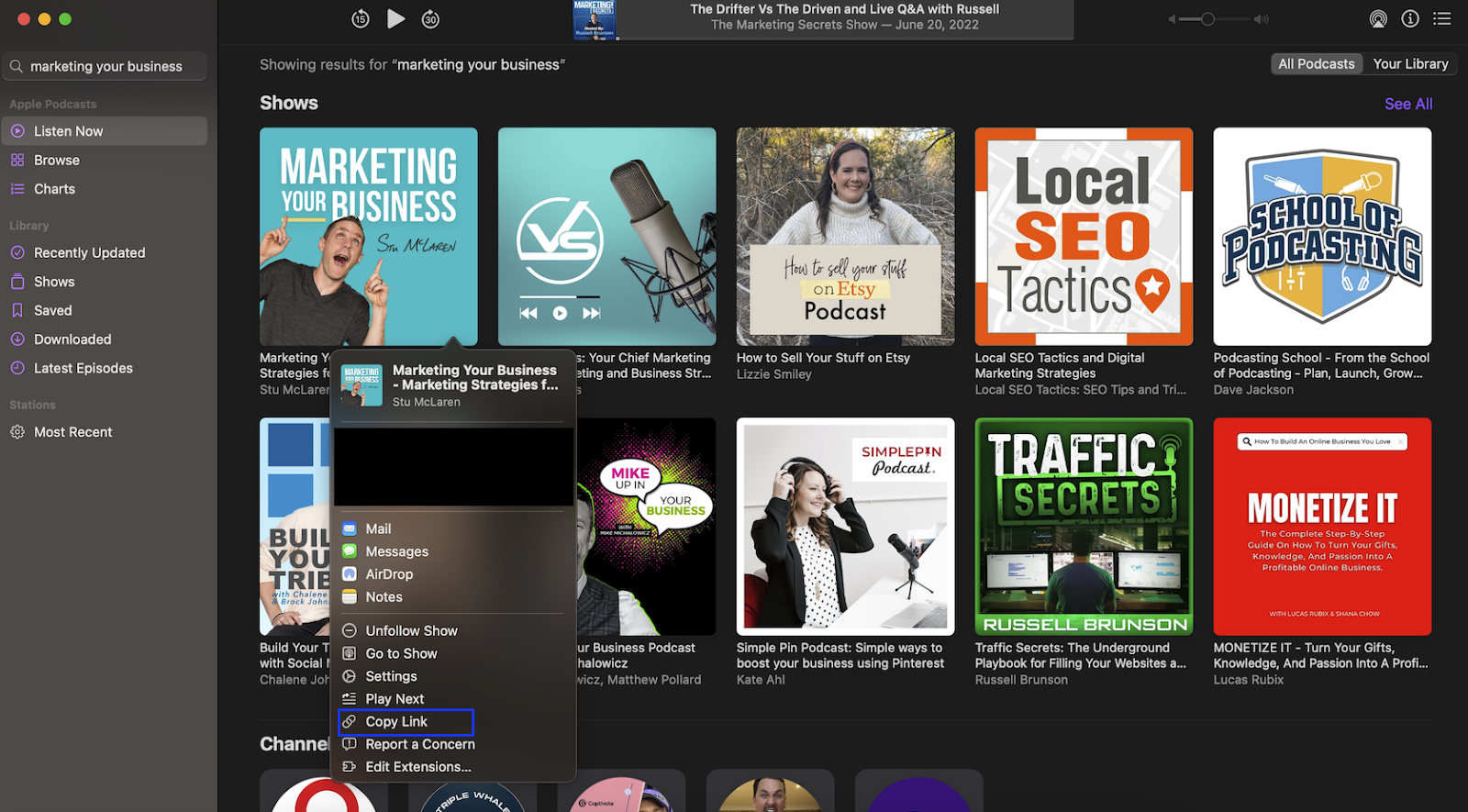 Go back to Searchie and paste the Podcast URL. Then, click "Verify" and then "Add Podcast".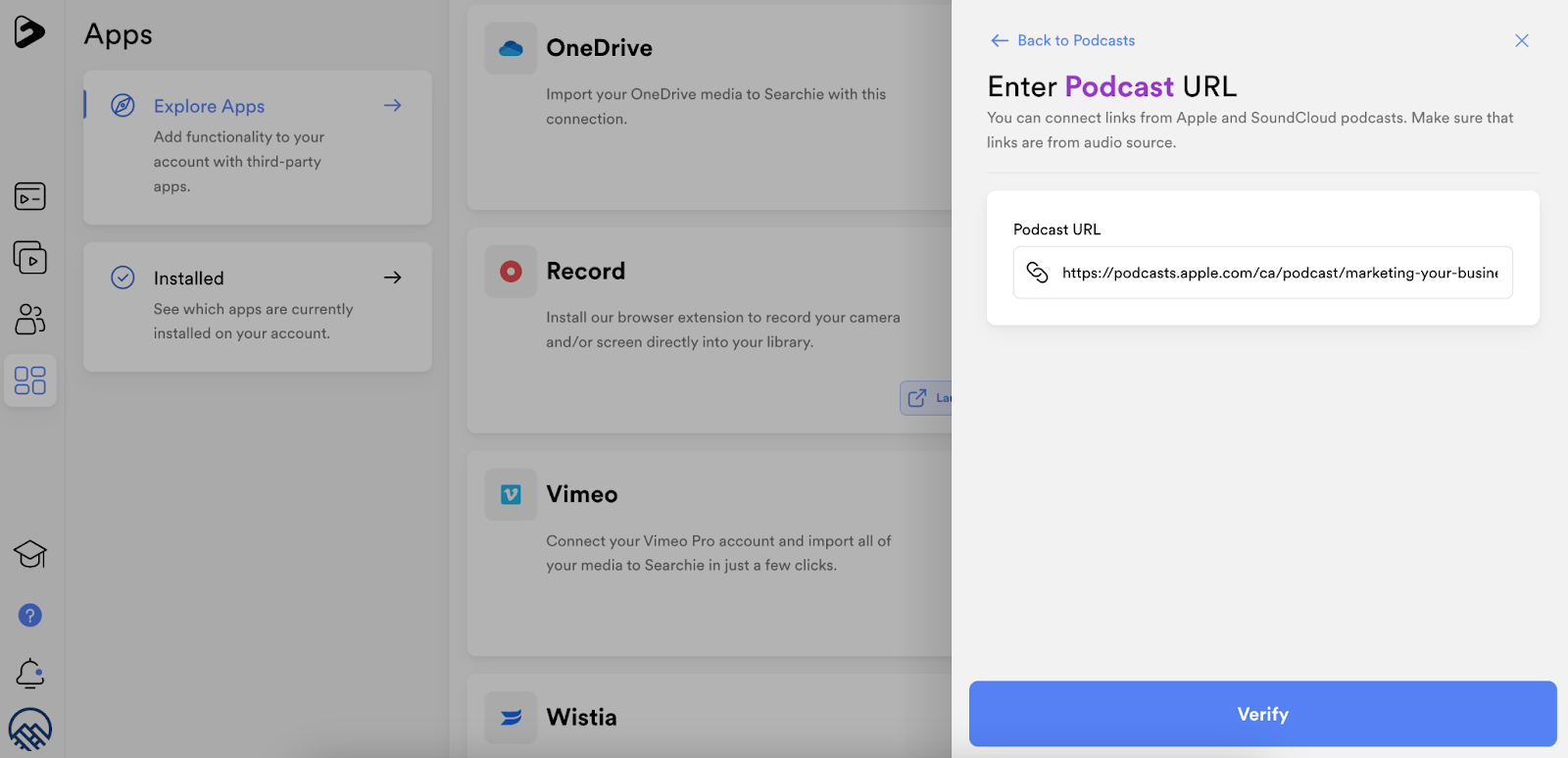 Step 4: Import Podcast Episodes Into Your Searchie Account
When you navigate to the "Library" tab, you will not see a dedicated folder for your podcast. From there, you can import your podcast episodes. Pick and choose which episodes you would like to import to your Searchie account.
Step 5: Create A Playlist For Your Podcast
From the "Library" tab, scroll down to create a new "Playlist" for your podcast. In this example, we created a new playlist titled "My Podcast".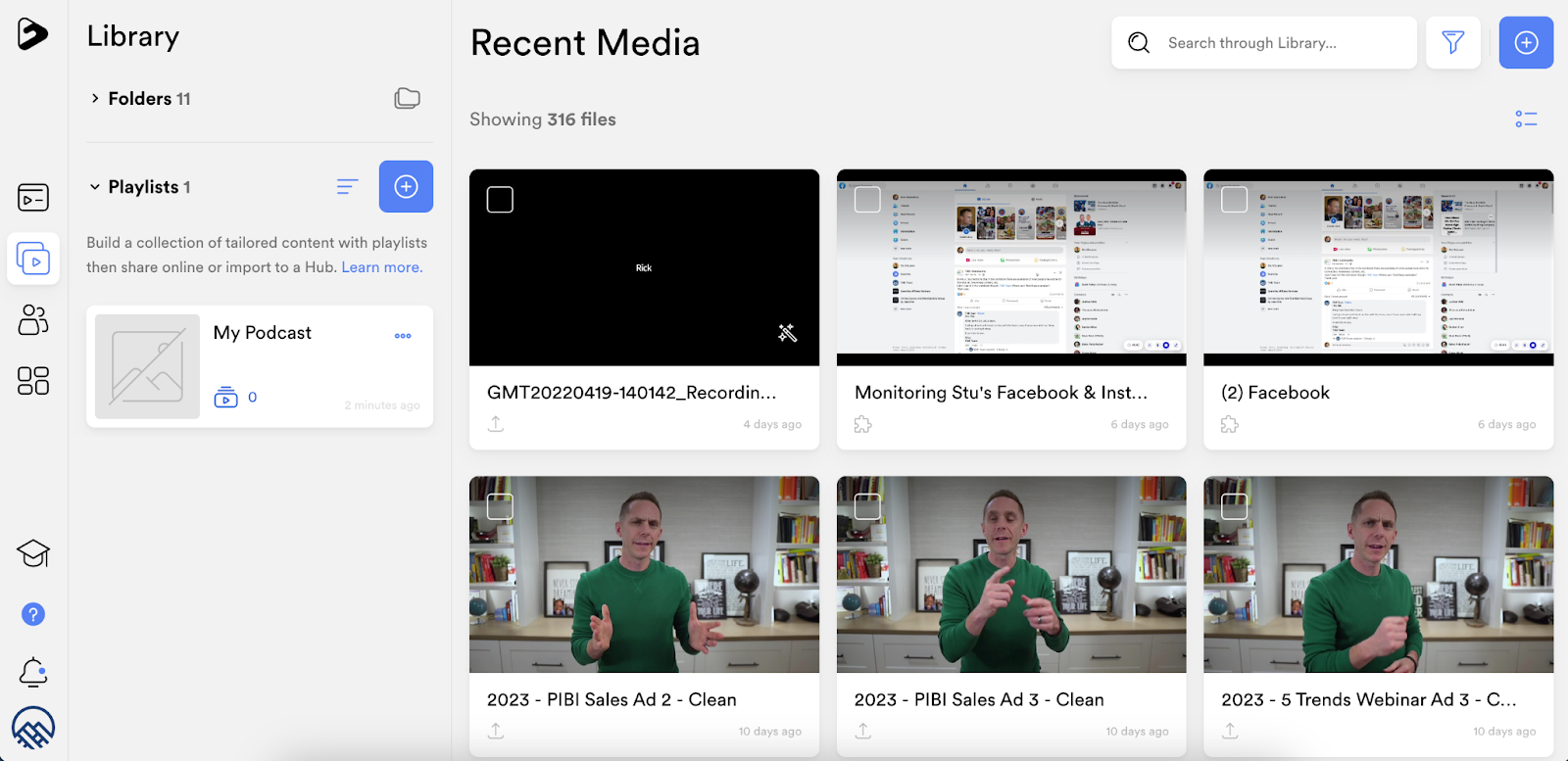 Next, click the playlist you just created, and then select "Add Content".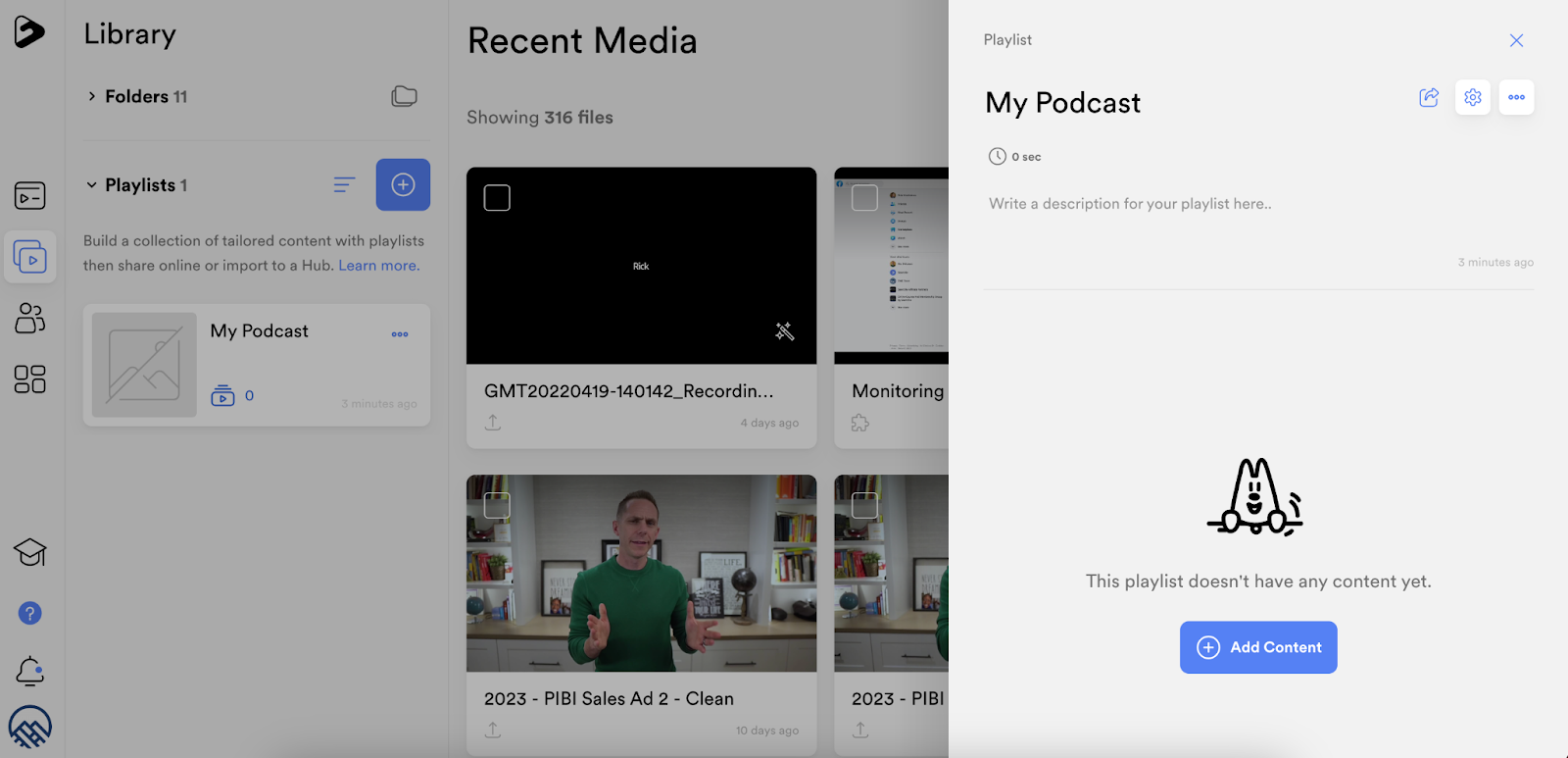 Click the "Library" button.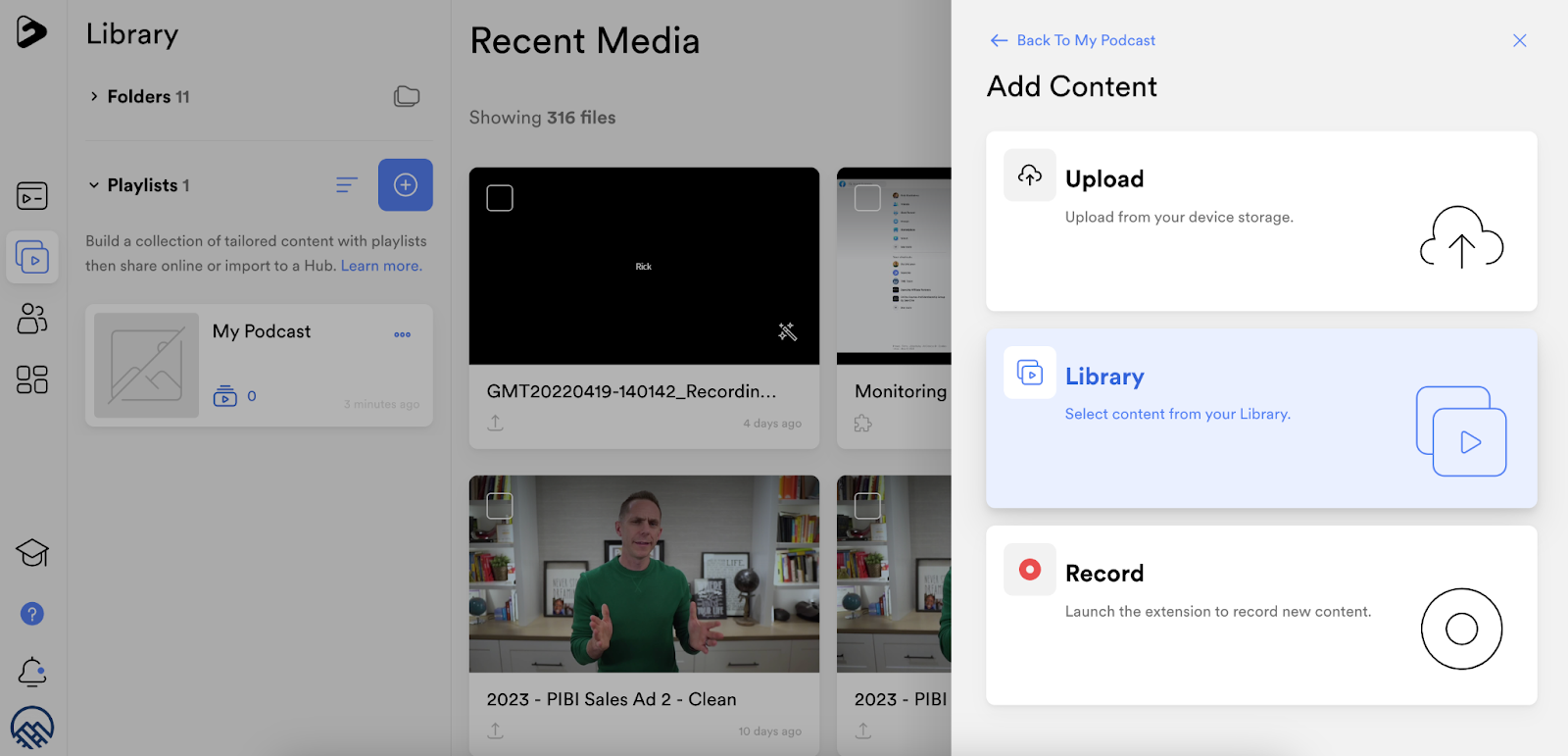 Find your podcast folder. Check the box and click "Add Selected" at the bottom right of your screen.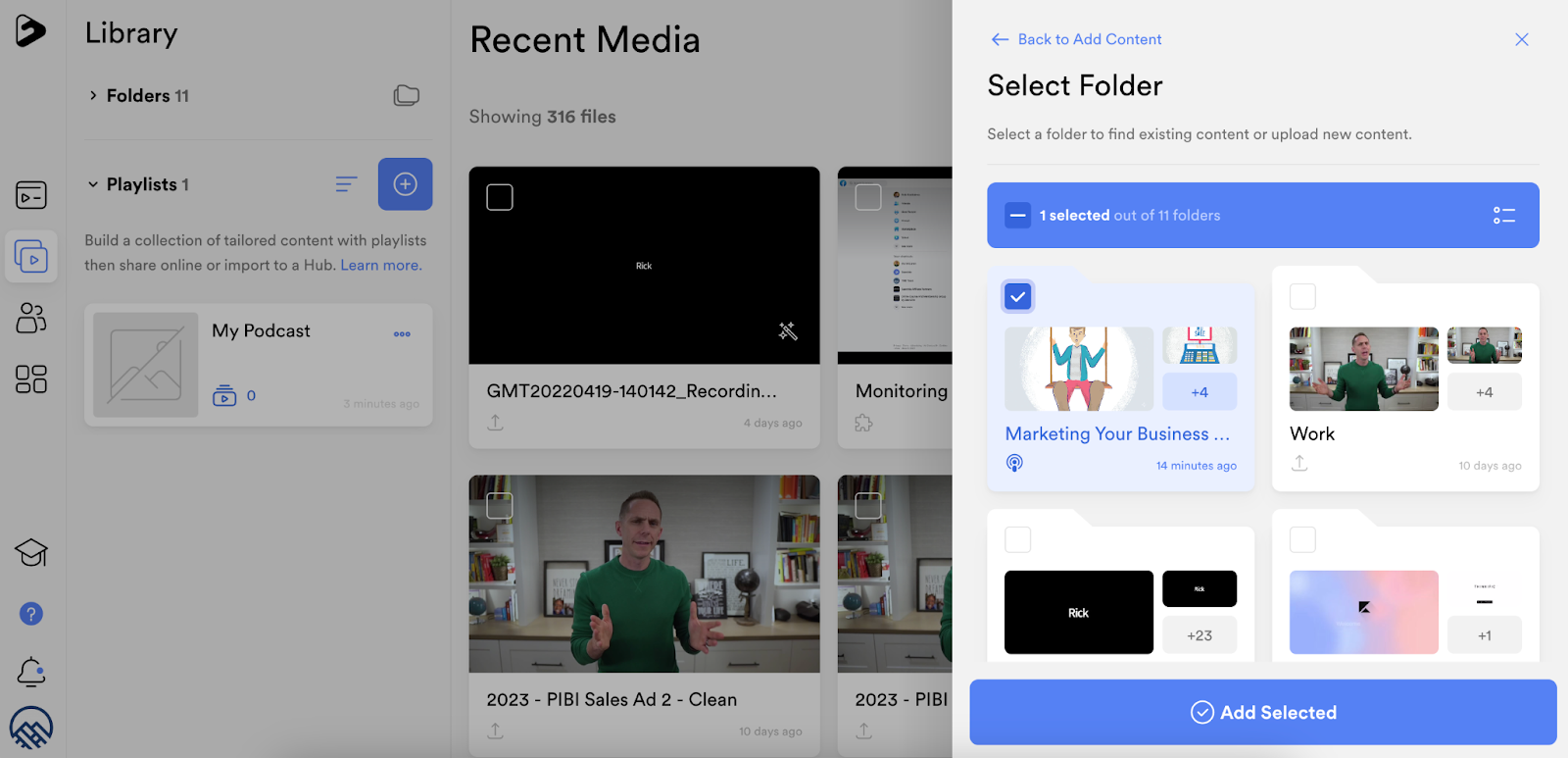 Step 6: Pick A Hub Template For Your Podcast Website
In this step, you will create a "Hub" for your podcast. This will become the website for your podcast. From the "Hubs" tab, click "See All Templates".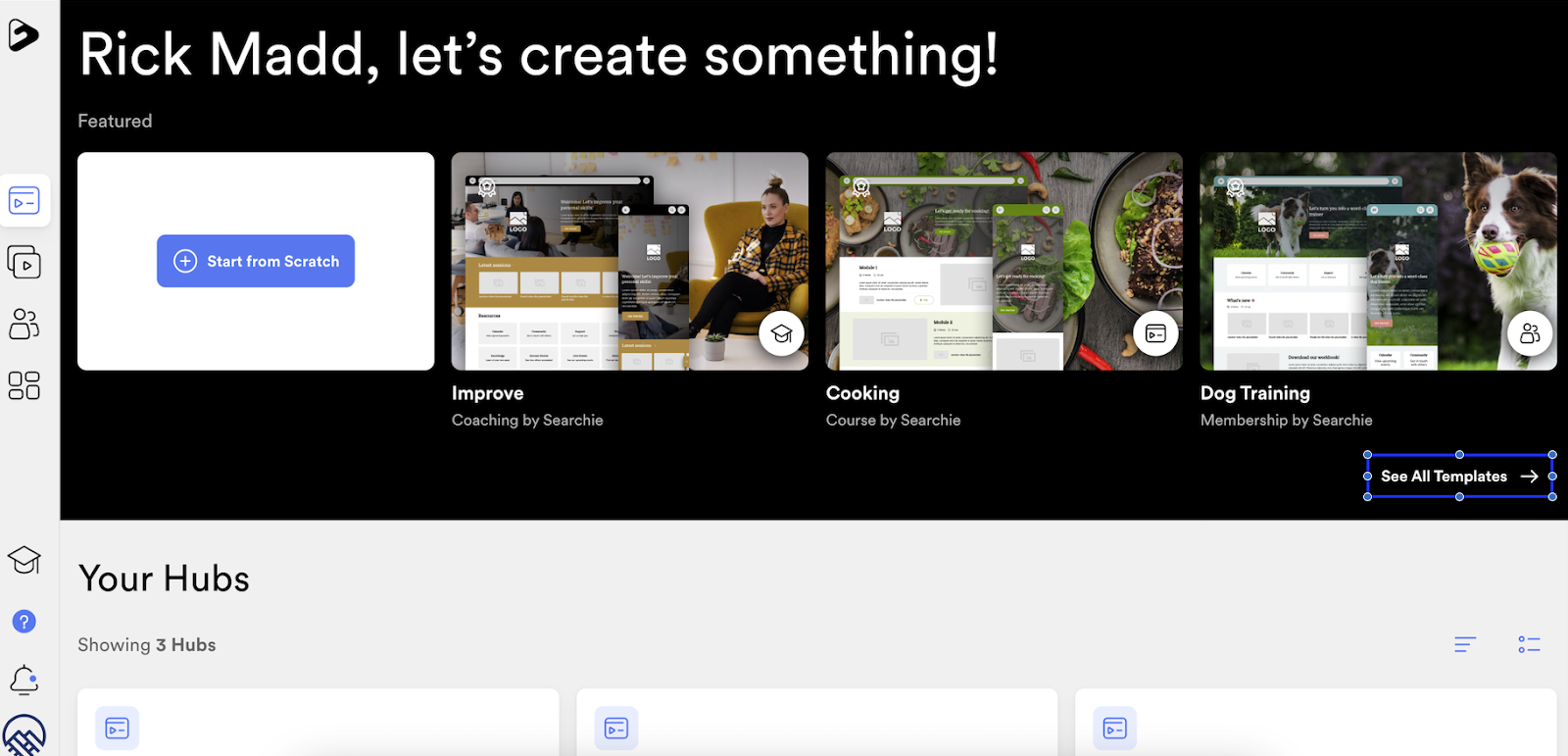 Add the "Podcast" filter to see only podcast website templates.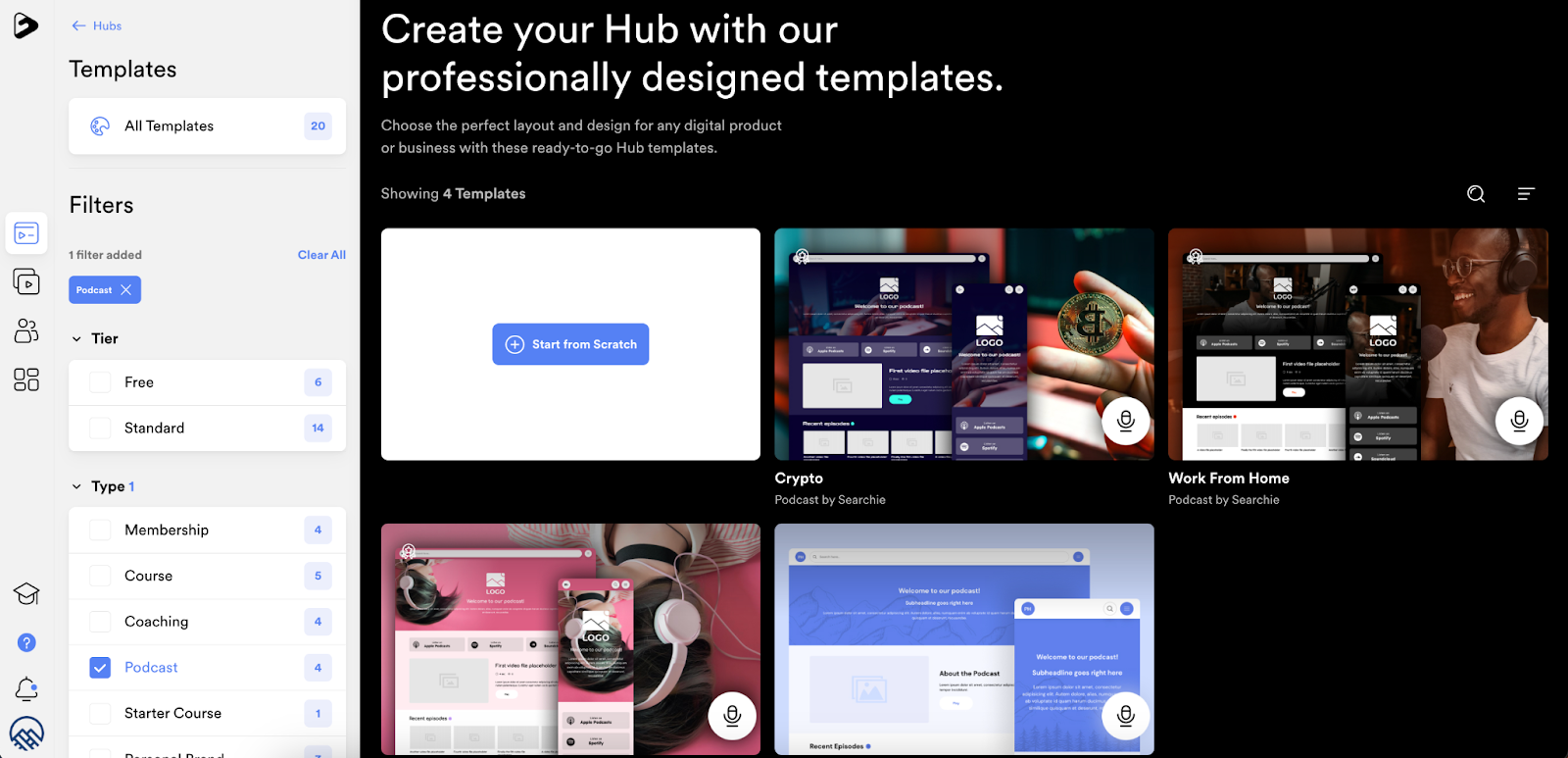 For this example, we selected the "Work From Home" template.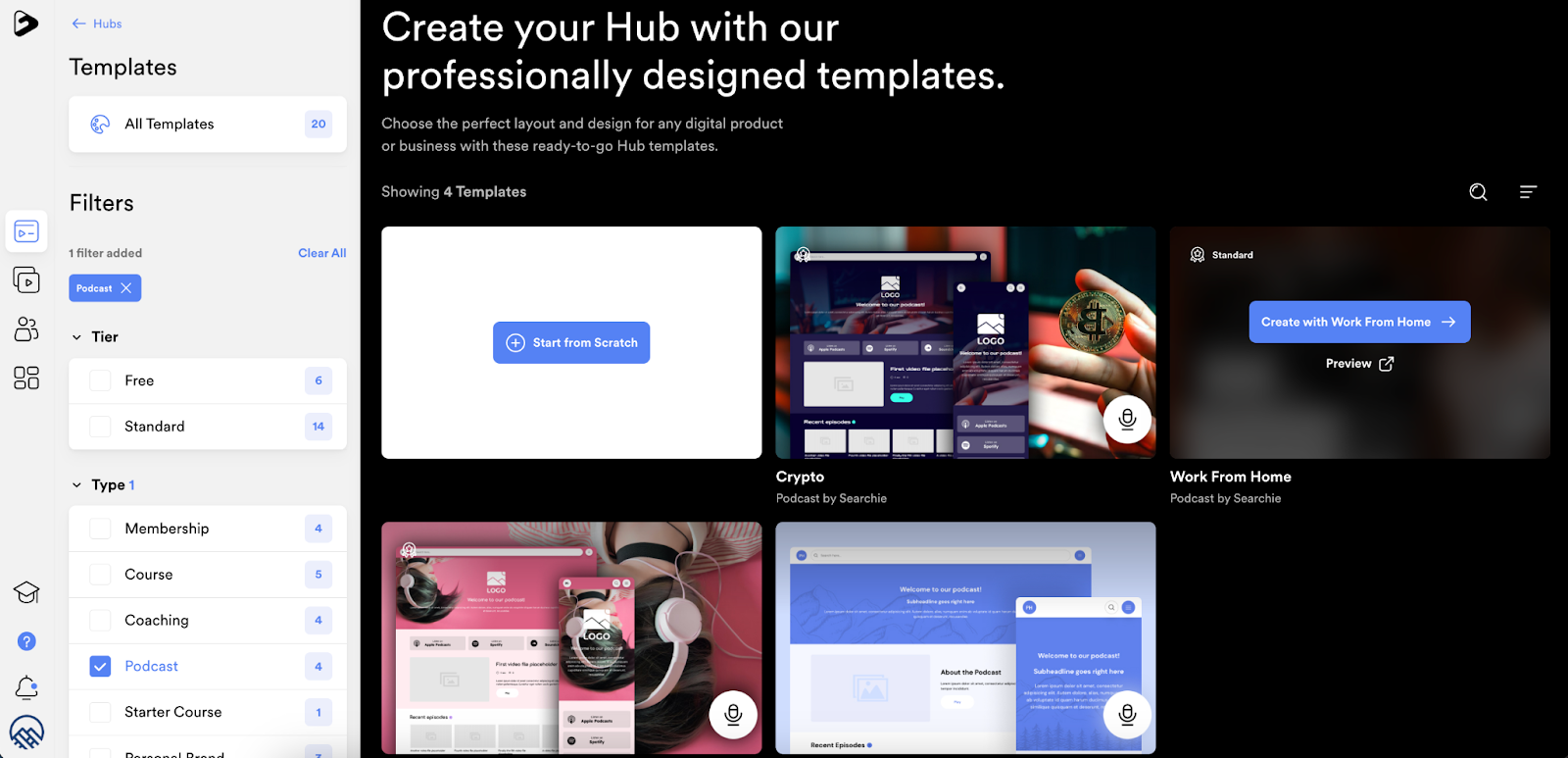 Step 7: Add Your Podcast Content To The Hub And Customize Your Website
By now, you should have added your podcast content to your Searchie account and created a "Playlist" for your podcast episodes. Now it's time to create a website—or as we call it, a "Hub"—for your podcast.
From the "Hub" dashboard, click "Customize".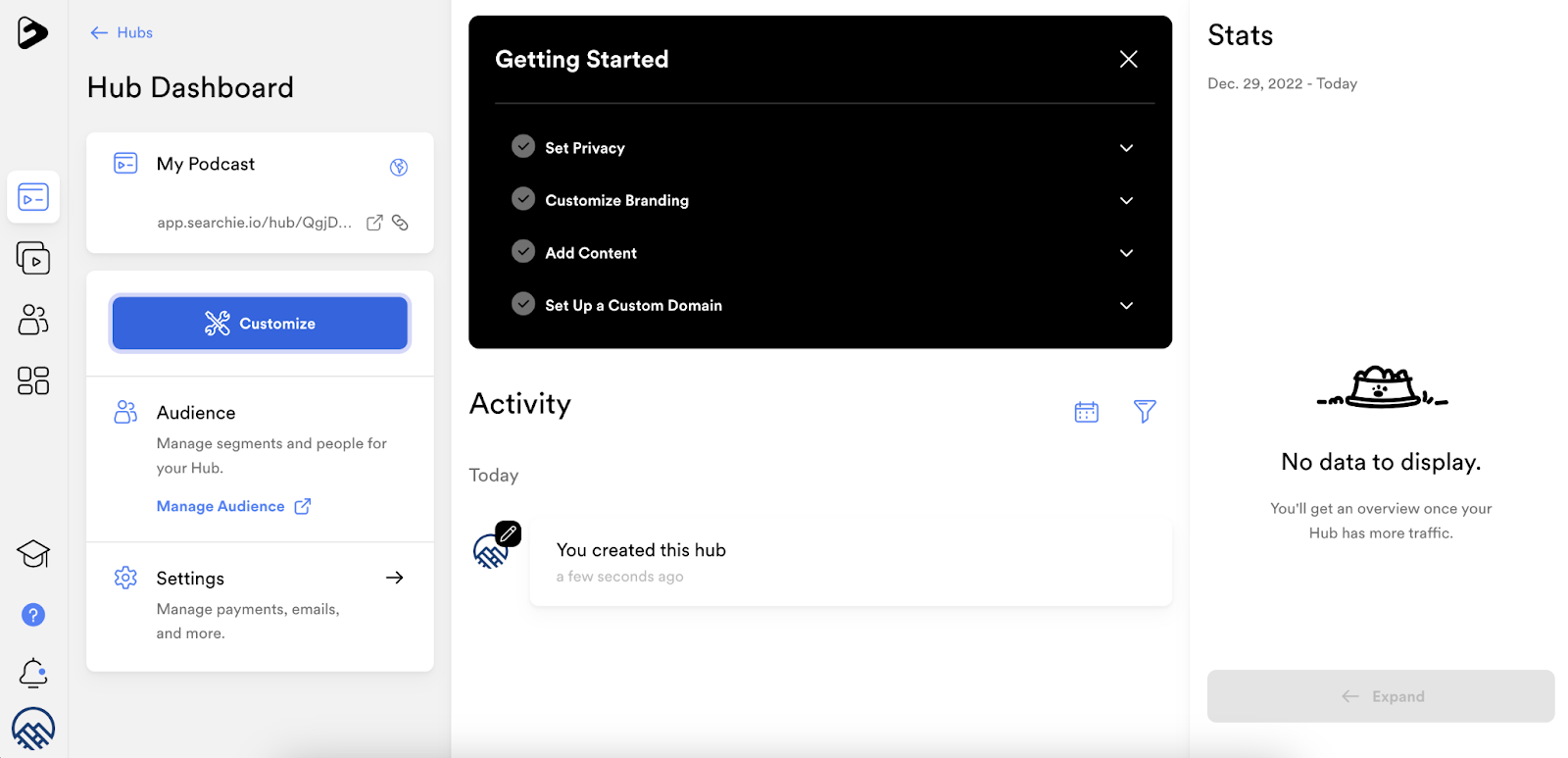 From the "Hub" editor, you can update and customize your podcast website so that it matches your brand. Check out the following resources in our support database all about how to create and build your Searchie Hub.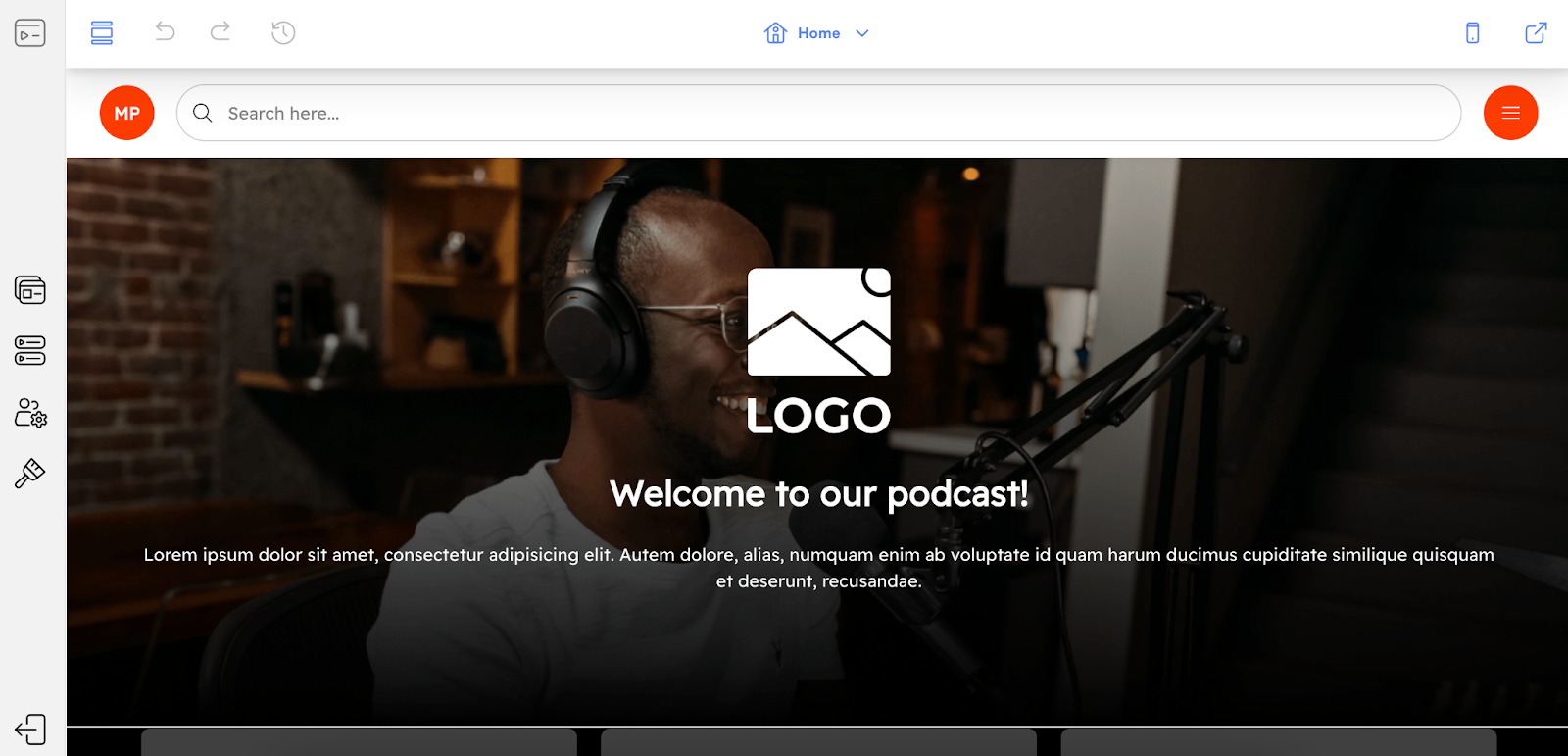 With a little customization and tweaking of the template pictured above, you can quickly create a beautiful, professional podcast website for your podcast.
You can spend as little or as much time on this step as you want.
Here is the example for Stu McLaren's Marketing Your Business podcast on Searchie. This took less than an hour and it's pretty awesome! Let us know what you think!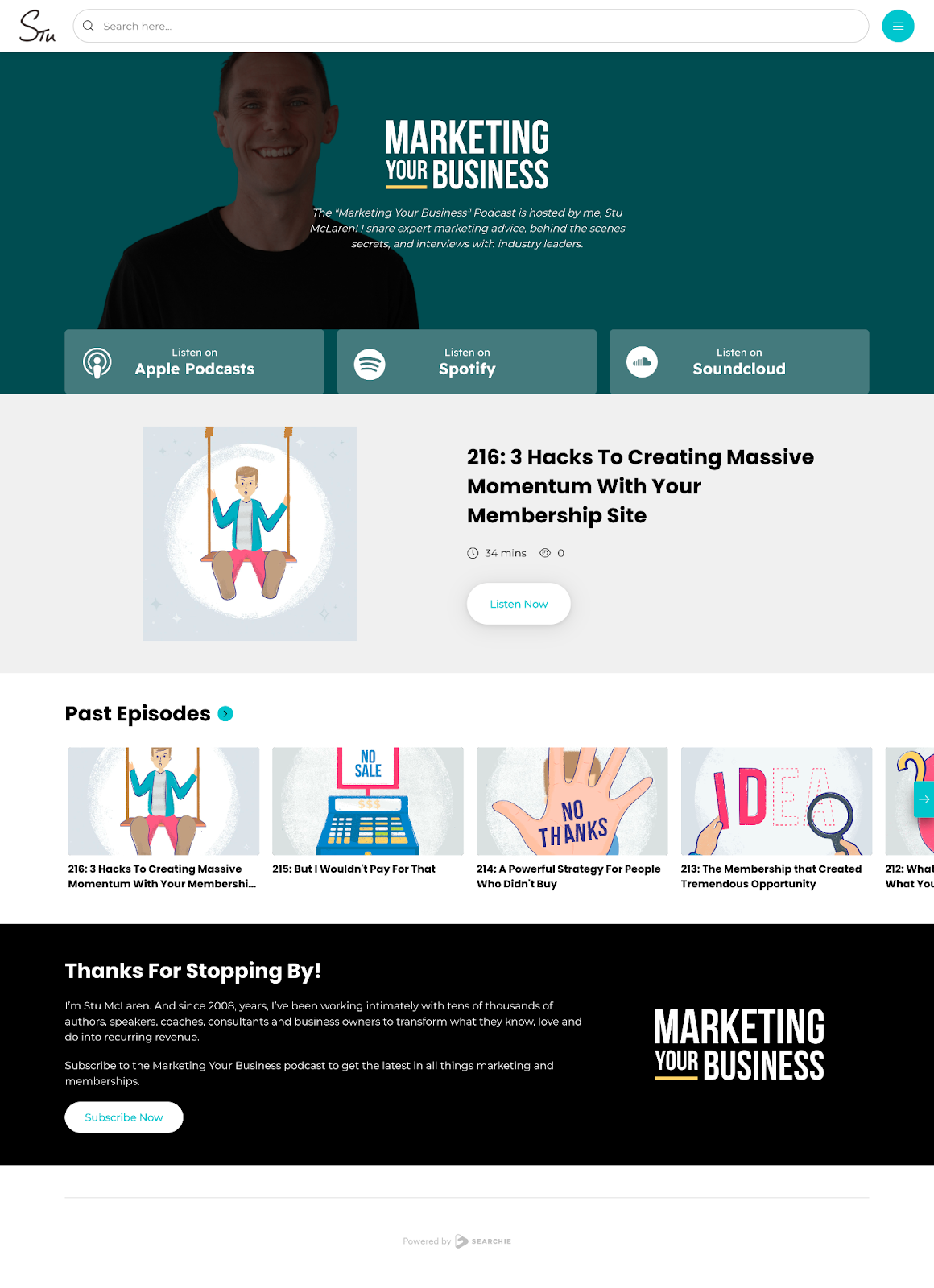 Ready To Create A Podcast Website For Your Podcast?
Now that you have gotten this far, you can see how easy it is to create a website for your podcast. If you have a podcast, all you need is the super tool to make it all happen at blazing speed! Start your 14-day free trial of Searchie today!
If you have any questions, drop us a line at help@searchie.io
Reimagine Your Business
Create the ultimate digital content experience for your information business with Searchie Hubs. Courses, memberships, coaching programs... you name it!