Searchie Spotlight: Tiny Signs, BIG Impact: From Local Workshops To A Thriving Online Membership With Lane Rebelo
✨ Watch Lane's full Spotlight interview here!
Welcome back to Searchie Spotlight! Today, we're thrilled to sit down with Lane Rebelo, the creative mind behind Tiny Signs®. Lane is more than just an educator; she's a passionate advocate for early communication, paving the way for parents and caregivers to bridge the gap with their little ones through the magic of sign language.

Lane shares her incredible journey, strategies, and insights she gained from local workshops to an online powerhouse and the hurdles and roadblocks she was able to overcome along the way.

So if you're struggling to scale, or looking to solve the puzzle of how to replicate vibrant, hands-on experiences of in-person sessions through the screen, this is the place for you!

During this interview, we cover:
Empowering early communication

Transitioning to online success

Creating engaging learning experiences

Searchie's streamlined content delivery

And SO MUCH more!






Spotlighter Bio

Name: Lane Rebelo

Business: Tiny Signs®

Niche: Lane Rebelo, LCSW, is the author of the bestselling Baby Sign Language Made Easy, The Complete Guide to Baby Sign Language, and My First Book of Baby Signs. Her latest book is Baby Sign Language Songs & Games which includes 65 fun and easy language-building activities to help teach little ones signs. She is the founder of Tiny Signs®, an award-winning baby sign language program. As a licensed social worker, Lane worked for many years with families in the Boston area. Lane began studying American Sign Language in 2006 after her first baby was born and was amazed by all she had to say.
Let's Jump In With Lane Rebelo From Tiny Signs®!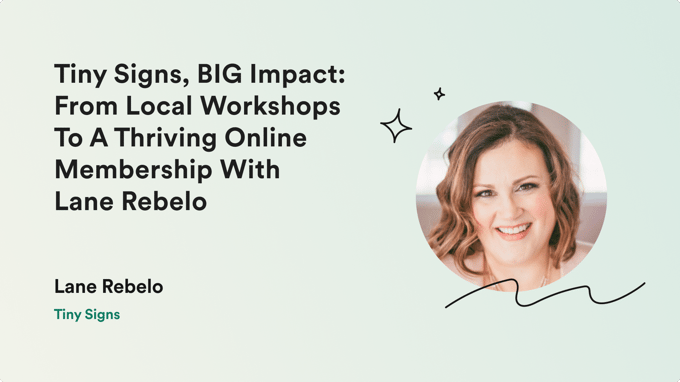 Paulina at Searchie: I wanted to thank you so much for joining us today. Can you maybe, for the end, teach us how to sign thank you?
Lane: Sure. That's an easy one. You take your flat hand at your chin and just move it away. Thank you.

Paulina at Searchie: I love it! Well thank you Lane. This has been phenomenal and I'm so happy that we had the opportunity to chat today for Searchie Spotlight.
Lane: Always good to see you Paulina.
Watch Lane's full Searchie Spotlight interview here!
Thanks for reading!
Want to learn more about Tiny Signs®? Head over to her website here.

We'll catch you in the next blog.
But wait, are you a Searchie superstar? Do YOU want to be featured in the Spotlight, just like Lane? Great! Because we want to hear from YOU!

Fill out this short form, and you just might be featured in your own Searchie Spotlight!
Reimagine Your Business
Create the ultimate digital content experience for your information business with Searchie Hubs. Courses, memberships, coaching programs... you name it!