Your New Writing Assistant
Searchie Ai saves you time and energy by automatically writing everything you need for your audio and video content. Headlines, titles, descriptions — you name it.
The Most Efficient Way To Write For Your Content
So you've created audio or video content, now what? The days of stressing about what to write—and finding the time to write it—are long gone. Searchie Ai takes care of it for you.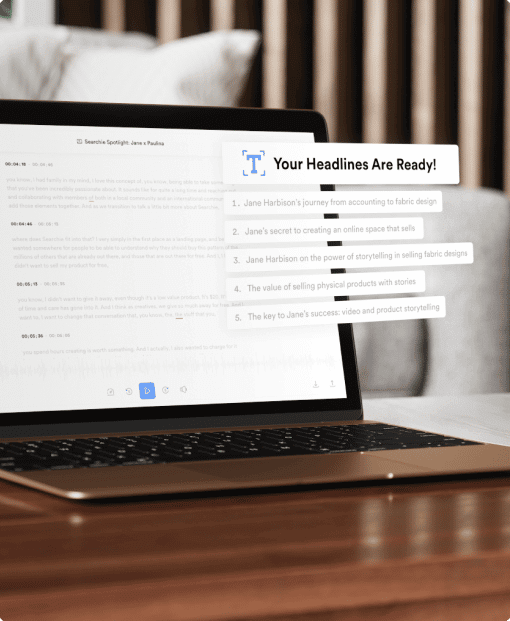 Content Titles
Generate catchy titles and headlines for your audio or video content.

Descriptions
Instantly write descriptions based on your auto-generated transcript.

Key Takeaways
Give your audience a quick summary of your content with key takeaways.

Summaries
Want a more detailed summary of your media file? Searchie Ai can do that too!
Being A Creator Just Got A Lot Easier
As an entrepreneur and content creator, we know that there are a million and one things on your to-do list. And when hiring help just isn't in the budget, it's up to you to roll up your sleeves and get it done.

Not anymore! Meet your new content creation and writing assistant.

A Dream For Course & Membership Site Creators
Effortlessly generate titles and descriptions for your lessons and training videos—without having to type a single word. Just pick and choose your favorite from a list of Ai-generated suggestions.

The Ultimate Coaching Call Time-Saver
Your audience can be present and focused on live coaching calls, knowing you'll provide them with key takeaways—all generated by Ai. That means no more notetaking or meeting minutes for you or your clients!

A Faster Way To Deliver Podcasts
After you record an episode, you need to write a headline, description, and takeaways. It's a huge time suck. Imagine that happened automatically—with Searchie Ai, it does!
Save Time And Get More Done (Without Spending A Fortune)
Staring a blank page is a real problem—especially if writing just isn't your thing. Even getting that first word down can feel nearly impossible.

Searchie Ai solves that by automatically writing for your content based on what's inside the auto-generated transcription. If you're looking to do more in less time, with less resources, then Searchie Ai is an obvious choice.
Discover The Game-Changing Power Of Searchie Ai
This is an early preview release of Searchie Ai, and may be subject to change, additional costsor limited to specific plans in the future. Please share your ideas and feedback as it will help us to improve our platform.