How To Film And Launch Your Online Course Using Only One Tool
If you feel like you're on the content treadmill or hit a bit of a content block, then this Searchie hack is for you. We're showing you how to film and launch your online course using only one tool… Can you guess what it is?
87% of users don't know about this game-changing feature! Stick with us as we dive in. Plus, we've included tons of sweet bonuses that'll save you a ton of time designing your digital product.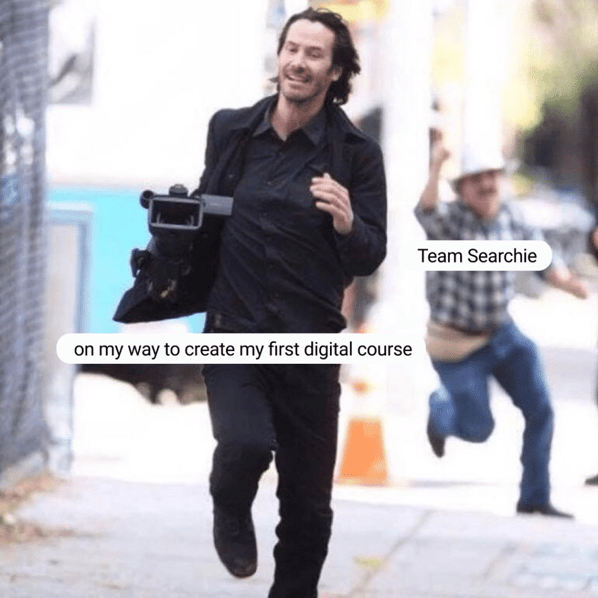 Outcomes
Download The Searchie Chrome Extension
What is the Searchie Chrome Extension? We're so glad you asked.
The Searchie Chrome Extension is a super fast and easy way to capture your screen (screen recording), webcam (camera recording), and microphone (audio recording) to share your message with just a couple of clicks. And, not only that, it's easy to find exactly what you're looking for inside the video using the power of Searchie.
Remember that feature we mentioned that 87% of you don't know about? This is IT. So don't sleep on your next favorite tool. It's totally free, and you'll see very quickly (in step 3) just how versatile it is when it comes to filming yourself and your presentations.
Configure Your Settings
This might be the quickest outcome to date! We'll walk you through configuring your settings inside your Searchie account in only a couple of clicks. That's right, you'll be breezing through this one and recording your content in no time at all.
Record Your Content (We've Included A Bonus To Help!)
Do you have loads of ideas swirling around in your head but are nervous about recording? Maybe you're feeling a little bit shy to start filming or don't know what to say… Where to start… What tech to use?
We've got your back. We're showing you how to record in three different ways, all using the (totally free) Searchie Chrome Extension. Plus, we've created four amazing bonuses that are going to be a HUGE help when you film and launch your online course.
Package Your Pre-Recorded Content Into An Online Course
To bring it all home, we're showing you how to package up all of your content into a course. If you're thinking, "I don't have enough content for a course yet!" — no worries. You probably have more than you think, and this training is applicable to courses or online programs of all shapes and sizes. So whether your goal is to create a mini-course, a landing page with a Playlist, or a 10-module coaching program — this hack will show you how!
Tools Required
The title says it all… all you'll need is one tool! *Drumroll, please* — and it's, you guessed it, Searchie! That's right, all you'll need is your Searchie account (if you don't have one already, snag a free trial here!).
We'll be packaging up your content into a Searchie Hub in step 4. If you're new around here, Searchie Hubs are your one-stop-shop to organize, share, and sell your audio and video content. Here's everything you need to know about Hubs and how they can help you build and launch your online business.
To facilitate the hack, you'll need to be using Google Chrome as your web browser and, optionally, Canva. Canva can be used to create thumbnails, documents, and, our favorite, slideshow presentations to use with your screen recordings. Don't worry, you won't need a Canva Pro account. Take advantage of the bonuses with zero commitment. The free basic plan is all you'll need to take advantage of one of our awesome bonuses below.
Film And Launch Your Online Course In 15 minutes Or Less
This hack will take you no more than 15 minutes! We don't mess around. These hacks are all about getting you results in the same amount of time it takes to take a lunch break, do a stretch, make a cup of coffee, walk your dog, take a shower… you get the gist.
Step 1: Download The Searchie Chrome Extension
If you don't already have the Searchie Chrome Extension, this first step is going to take seconds. Already recording, go ahead and mozy on down to step two.

Everyone else, click here to quickly download the extension for free. Unlike other screen recorders, the Searchie Chrome Extension allows you to record without limits! That's right, no anxiety-provoking time constraints or upload limits. No matter what pricing plan you're on, you can record to your heart's content using this extension, and none of your recordings will count towards your monthly upload limits.
Step 2: Configure Your Settings
Pin to Google Chrome toolbar
First, pin the Searchie Chrome Extension to your Google Chrome toolbar. This will make it a cinch to record anytime inspiration strikes!
Simply click the jigsaw puzzle icon, and click on the Searchie favicon to pin.
We weren't kidding when we said this takes 15 minutes or less to film and launch your online course… we're flying through these steps.
Let's keep going. After you log in to your Searchie account, scroll down to step three where the real fun starts.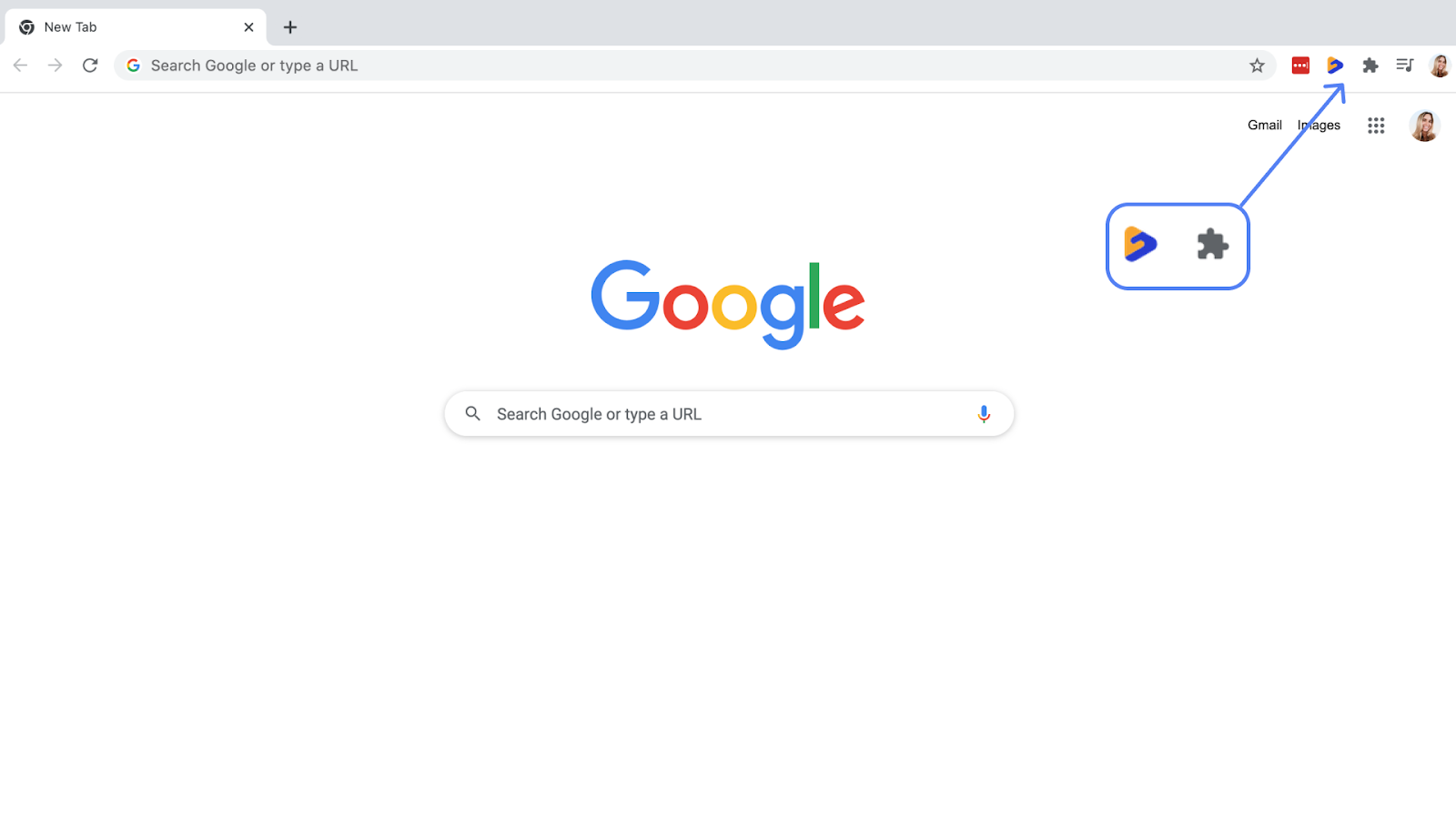 Log in to your Searchie account
You don't need us to tell you how to hack this, do you? Log in to your Searchie account here or snag a free trial right here.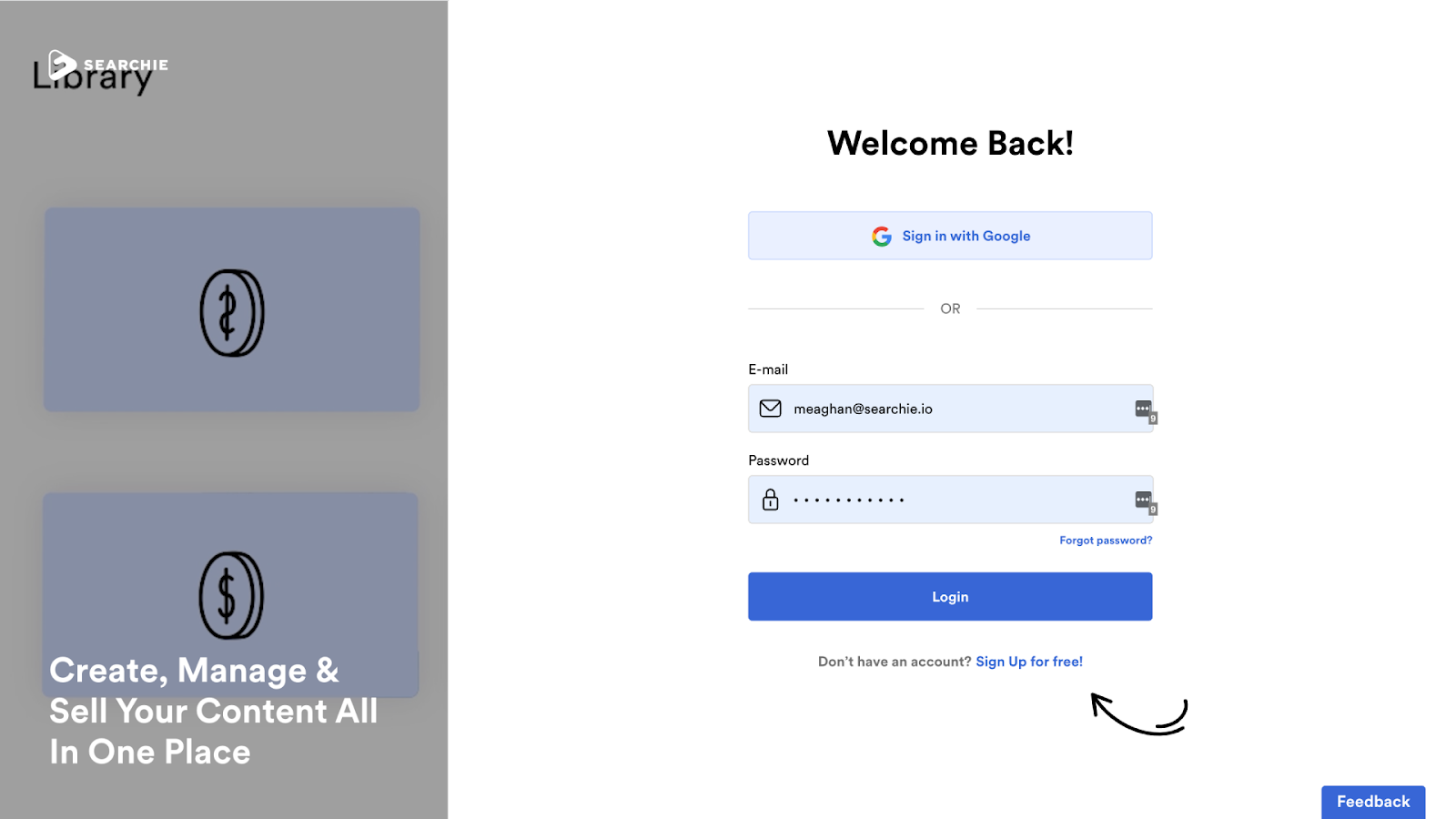 Step 3: Record Your Content
What you've all been waiting for…
We're diving straight in to show you three different ways to use the Searchie Chrome Extension to film and launch your online course. Whether your recording is being used internally with your team, a private one-on-one meeting, or publicly, these three recording styles have you covered.
Record your screen or presentation slides only
This is a great option for anyone looking to record a process, relay a quick message with an added visual cue, give a presentation, and so much more. Team Searchie loves using this to share quick screen recordings with the team. This allows us to save time by avoiding unnecessary Zoom calls and screen sharing!
Record yourself with your camera only
No presentation slides needed? We love that for you.
You're the star of the show, and the Searchie Chrome Extension is here for you every step of the way. Record yourself only for your next coaching session, lesson, or personalized message!
Record your screen or presentation slides, as well as your camera
Our last filming style really is the ultimate duo…
Record yourself on camera and your screen to give a personal approach to your presentation. This allows your audience to see your lovely face, as you walk them through documents, presentations, or processes.

Want to see these in action? Watch this Searchie Hack replay below to see Paulina's demo (and expert tips) for using the Searchie Chrome Extension!
Step 4: Package Your Pre-Recorded Content Into An Online Course
Searchie Hubs is our website builder that allows you to package up all of your content inside your Searchie account and offer it to your audience for free or paid.
We know not everyone is a natural-born web designer, and you don't need to be. Searchie is non-techy-friendly, and our team is always looking for new ways to help simplify things even more. That's why we've whipped up some handy templates for your next Hub layout — there are literally hundreds available in your account!
Record A Welcome Video
Now that you've built your Hub, you should probably add some content. If that whole thing about being nervous to record/not knowing what to say struck a chord with you, we're about to make your day. Go ahead and click on "Video Scripts" in the Searchie Toolbox to get a full script for your first welcome video!
But wait! Before you hit that record button, check out our 5 must-know filming tips to create amazing at-home video content using nothing but your laptop or computer.
Create A Feature Section, Course Modules, And More
Once your welcome video is in, go ahead and add that to a Feature Section in your Hub!
Now, do a little dance because you're officially building a website.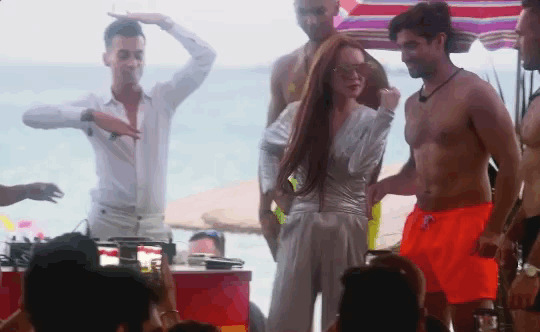 Okay, okay. There's work to do. We can't all be dancing like Lindsay Lohan in Mykonos.
In this last step to film and launch your online course, you'll be using Sections to build your Hub. Click on that link to quickly learn how to pick and customize Sections to deliver your Hub's content.
You can mix and match Hub Sections depending on the template you've chosen and/or the content you are delivering to your audience.
For example, if you don't have video-heavy content and instead have Dropbox or Google Drive Folders, a Facebook Community, or online storefront you want to link to, then a Grid Section sounds like the perfect fit! Create a custom thumbnail for each link, then add your external link to the grid.
Need more inspiration? See real-life examples in the Searchie community, or throw your questions our way at help@searchie.io
Thanks for reading!
You're DONE! What did you think?
Community members who attended this Searchie Hack live were absolutely loving this training…
"I just watched the Searchie hack replay last night, and it lit a fire under me… If you are using Searchie, I highly recommend you watch it." – Todd Malcolm
"The Searchie Hack training yesterday was really, really good! …and can we talk about those bonuses Paulina and Meaghan shared so AWESOME!!! Searchie just makes everything so easy! What a joy and wonderful example. A breath of fresh air, every time. Thank you!" – Dr. Tatiana Habanova
"It's an upgraded version of Loom. NOOOOO what I mean is a 200% upgrade of Loom" – Mark Lawrence Osilleva
We want to hear from you, too! Head on over to the Facebook group and join the Searchie Community. Share a screenshot or screen recording when you film and launch your online course!
Have a question for our team? We're here to help you! Drop us a line at help@searchie.io.