How To Create A Customized Hub Tour For Your Audience: The Ultimate Onboarding Experience
If you're starting an online program – or looking to improve one you already have – then you should take a long look at your onboarding, you may need to create a customized Hub tour.
There's a lot more to it than just giving your people the keys to the kingdom, and letting them show themselves around.
There's a strategy. And if you do it right – for your digital course, membership or online coaching program – then it can make a big difference.
People can get a ton of momentum as soon as they start. And when they make progress early, they're likely to stay longer.
In an ideal world, you'd give each and every custer a personalized your.
Sit down with them, maybe with a warm coffee or cuppa, and go through your Hub to show them all the awesome things you've created and curated just for them.
But, that can be difficult if you're serving a global audience. Plus, it's super time consuming.
On the flip side, in this blog, we have some great tips and tricks to assist you in delivering a quality customized tour and onboarding experience for your loyal subscribers.
Go ahead and add 'Tour Guide' to your resume!
Let's get started…
Add A Personalized Touch
Want to know a secret to creating a great onboarding experience for your new audience members from the moment they enter your Searchie Hub? Step 1 to create a customized Hub tour starts with a personalized welcome message, including their first name, and make it front and center the moment they enter your Hub.
Personalization makes everyone feel special. Right, [insert your name here]? 😉
Audience Segments
Your members or customers are all unique. Maybe they are at a different stage of their journey or at a different learning level.
Audience Segments allows you to curate the perfect content experience for each guest. That means they will see the content that they need to see to make progress. It's personal. It's relevant. And it will go a long way in supporting them to make progress.
But, what if you're not sure where they're at? Just ask them!
Create a survey or assessment for them to complete, then sync up the results with Audience Tags.
As you're creating your assessment, think about what information you need to know in order to segment your audience into groups, and pose your questions around that. For example, are you looking to find out if they are more of a beginner or a pro? What questions do you need to ask to group your audience into these buckets?
As part of that assessment, you might also want to grab some simple information like their name, email and country of residence. Knowing what time zone your audience is in will help you decide time and dates to release content!
Learn more about Connecting an Assessment to your Searchie Hub in this training Playlist.
Lights, Camera, Action!
Before we get to the next step, go ahead and download the Searchie Chrome Extension for free. Don't forget to click '🧩' and pin📌 to your Chrome browser!
Not only is it going to be a key component to your onboarding while you create a customized Hub tour, but you'll be able to utilize it for ongoing personalized support to your customers.
Instead of writing back to an inquiry email, try sending them a recording. This isn't necessary for every message, but inunciations are lost through text sometimes.
Not to mention, you have unlimited recording hours using the Searchie Chrome Extension if you're signed up to a Searchie Basic, Pro or Business plan.
OK. Now back to creating the ultimate onboarding experience.
A Warm Welcome Message
Sounds simple enough, right? But, this teeny, tiny detail can easily be overlooked.
Think about it, your hustling, working hard to get all of your content lined up to launch your online program. Your team might consist of "Me, myself and I", and you're trying to make sure you have all of your ducks in a row.
Here's us telling you, add this to your to-do list…
☑ Film a Welcome video!
It doesn't need to be a fancy production. Keep it simple. Record a welcoming snippet of you and a big smile on your face. Video will help you to create a much deeper connection with your audience compared to the written word. That's because they'll be able to see a real, live human (i.e. YOU) on the other end of your course, membership, podcast, or whatever your use case may be; pointing them in the right direction.
We love that, and so does your audience!
A Guided Tour
Similar to a welcome video (and often filmed together as one video), we encourage our users to film a site tour video. It's the fastest and easiest way to show your members how to view a Searchie Hub and where to find stuff.
But, what if you could offer a seamless onboarding experience for your audience with a guided tour of your Hub. One that provides interactive direction as they move through the motions of getting to know your Hub and all you have to offer in it.
Take It From The Pro
Membership Expert, Stu McLaren did exactly this for his course all about how to launch, grow and scale a highly profitable membership. He combined the power of Searchie with a personalized tour for the new Class of 2021.
We'd venture to say it was a massive hit, just take a look at the comments from Searchie Facebook Community below. In less than 24 hours after the grande reveal, people's minds were blown! All looking to create a customized Hub tour of their very own!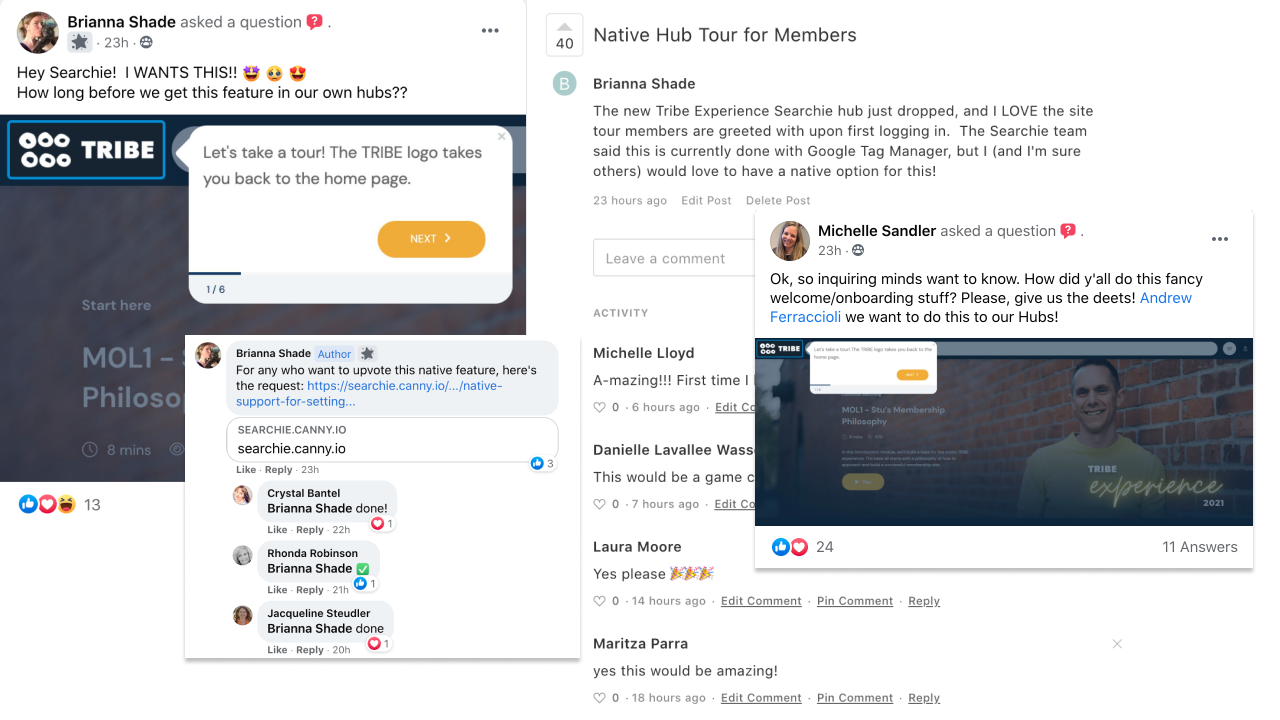 To be clear, this native Hub tour integration is not available inside your Searchie account. Here's the thing, we hear you. It would be an amazing feature to offer natively in Searchie Hubs.
Here comes the but…
Without getting too technical, this isn't streamlined with the direction of Searchie and the team is always focusing our efforts and attention on the bigger picture. Good news, we're all about collaborating with other awesome software as a service companies, and we have one we'd like you to meet…
Introducing, UserGuiding. This is what was used for the 2021 TRIBE Experience. If you're looking to level up your tour, there are tons of other great tools too! Be sure to check out Appcues and Pendo too.
Depending on your audience size and quite honestly, your bandwidth, these additional integrations may very well be worth the investment.
Great Minds Think Alike
Our friends over at UserGuiding know what's up when it comes to a modern day user-friendly approach to tech. Not everyone is a coder or has the luxury of a full-time techie at their disposal (imagine how great that would be). They're no-code solution vibes with Searchie, and we love that for you.
Queue, Success Path™
This is something we learned from Membership Expert, Stu McLaren. The Success Path™ is the foundation for every membership site (and can be used in a course, too). The goal is to set your members on the path to success, and help them get from where they are to where they want to be!
This goes for your tour video, fancy app tours…whatever route you decide to go with.
You might have been staring at your Hub night after night, getting ready for launch… maybe for the last week, month, months?! But remember, it's your audiences' first time. Make it special for them 😉
If they don't know where to go or what to click on first, they could get confused – or even frustrated. Your direction will be more than welcomed and greatly appreciated. Trust us.
The Perks
Here's a few of our favourite features that UserGuiding is flexing.
We think you might find them pretty cool and uber useful when it comes to your membership site, online course, coaching business, virtual classroom… you name it!
Keep in mind that these features are automated using apps like UserGuiding and the others we mentioned, but you could very well take this as inspiration or direction for your tour video(s).
If you launch a new section of your Hub and want to show your audience the lay of the land, use this part of the blog as your cheat notes:
User Onboarding
Okay, pretty much everything we've covered so far. A new audience member signs up, they hop into your Hub – now what? Show them exactly where to find what they need, right from the get-go. Create a video to show them around using the Chrome Extension.
Feature Adoption
Uh-hem, have you met us yet?
We are all about new features. Go ahead and count how many new Searchie features you've used in the past month, we'll bet it's a few. If not, head to the latest release notes in the Changelog because chances are you're missing out, friend!
Staying on topic. New features.
If we release a new feature…and you implement that feature in your Hub… your audience doesn't know what's going on. You can give them a gentle heads up via UserGuiding or tour video. A little "Hey, look at this cool new thing I want you to utilize 👋".
Like the time we released Chapters. This is definitely something you want to let your audience in on.
Customer Feedback
This is the only time you should care what people think. Seriously, do your thing!
But, when it comes to your customers, you want to hear their feedback – the good, the bad and the ugly. It helps you grow. Plus, it'll support the evolution of your online program and the content you provide.
A little survey didn't hurt anyone. The low cost option, low tech option is to send out a simple assessment via Google Forms.
If you're dishing out and going for the more expensive option, using one of the aforementioned product adoption apps, something as simple as a pop-up can tell you a lot.
For example, try asking "How are you enjoying your experience?" with a scale from 1 to 10.
It takes your customer a single click to give you new insights on their satisfaction with what you provide inside your Hub. Of course, you can dream bigger, but you get where we're going with it. That feedback will be a quick and helpful indicator of whether or not your audience is digging your product or not.
The Right Fit
Not sold? No worries, that's not what we're here for.
We recognize that additional software or apps may not be feasible in every business budget. Our goal is to share what products are available and have proven as effective methods to increase your customers' user experience, grow retention and give YOU more time to focus on your expertise.
That being said, Sendloop said they had a 70% decrease in support tickets with UserGuilding.
If you have a growing business, you're stretching yourself thin as is and likely wearing all the hats – including Customer Service Representative.
Imagine only getting 3/10 emails that look something like this… "Hi, I'm having trouble finding…". We'll take that as a yes.
We hope this helps. Don't need to create a customized Hub tour? If you're already a 'tour guide' for your members and have a wicked onboarding process, let us know!
Share your use case in the Facebook Group or drop us a line.
No matter what stage you're at in your journey, we love to see your thousands of use cases and stories in the Searchie Community!
Have a question? We're a friendly bunch, send an email to help@searchie.io to chat with a team member.
Catch you in the next blog!